Cardiff flights 'back to normal' after ash cloud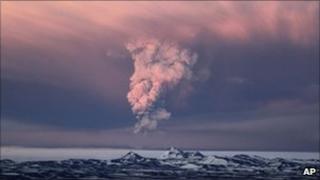 Cardiff Airport says its flight services have returned to normal after the Icelandic volcanic ash cloud moved away from British airspace.
The airport had warned that some flights on Wednesday may be delayed or cancelled after several flights were affected on Tuesday.
UK air traffic control company Nats said harmful concentrations of ash were expected to have dispersed overnight.
Cardiff Airport said it would update its website if the situation changed.
As the ash cloud heads towards the European mainland Germany's meteorological service said airspace over the country's northern cities, including Bremen and Hamburg, would close from 0400 BST (0500 local time).
This prompted cancellations by some airlines in the UK.
The Civil Aviation Authority confirmed that the effect on flight schedules would depend on the airline or tour operator operating the service.
Passengers were advised to check with their airline or tour operator.
Cancelled
On Tuesday Flybe arrivals and departures between Cardiff and Paris, Glasgow and Edinburgh were all cancelled.
Eastern Airways also cancelled flights between Cardiff and Aberdeen.
Ash from another Icelandic volcano led to huge disruption to flights in Europe last year.
There is also disruption to flights in and out of other UK airports, including Bristol, Liverpool John Lennon and Manchester.
The Civil Aviation Authority (CAA) said ash levels would now be graded as low, medium or high, and airlines would be notified if levels reached medium or high.
Airlines would then consider whether to fly, according to risk assessments already carried out, the CAA added.
The Grimsvotn volcano in Vatnajokull National Park began erupting on Saturday with ash rising to 20km (12 miles) but, although still active, is now not as powerful with a plume of 13km (8 miles).