Obama visit: A powerful man and his motor at No 10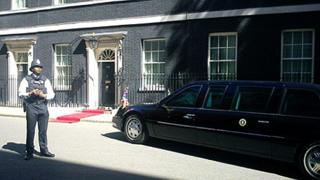 The first sniff of barbecue aroma arrived shortly after 9am - well before the presidential motorcade arrived in Downing Street.
Perhaps they were testing the cooking in the No 10 garden - or just trying to wind up hacks who'd been securely locked inside the street with no indication where their next meal was coming from.
For all the hard talk about war and peace, it was hard to escape the showbiz element that accompanies the most powerful man in the world and his extraordinary vehicle - "the beast".
Downing Street had the air of a film set this morning. Men in dark glasses spoke earnestly into their cuffs. Two officials grappled with a short piece of red carpet on the pavement outside No 10.
Shortly before the president's arrival, civil servants poured out of offices in Downing Street to catch a glimpse of the president and, for some at least, have their photograph taken with his motor. I even grabbed a quick snap on my phone.
Many MPs and peers are more excited about this visit than they would let on. Demand for tickets for President Obama's speech to both Houses of Parliament has been high, even though MPs have just begun their Whitsun recess.
I am also taking a break and will be back at my keyboard on 13 June.