Rodgers dedicates Swans' success to late Besian Idrizaj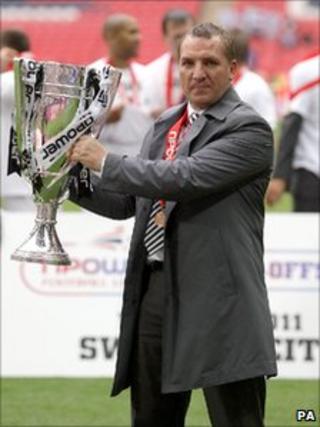 Swansea City FC manager Brendan Rodgers has dedicated the team's promotion to the Premier League to a young player who died suddenly last year.
Striker Besian Idrizaj, 22, died in his sleep at home in Austria last May of a suspected heart attack.
Rodgers said: "Obviously, there has been a lof of emotion this season in relation to that."
Players wore a T-shirt with a photo of Idrizaj as they claimed the play-off trophy.
Idrizaj had been at the club for a year after previously being on Liverpool's books and also having loan spells at Luton Town and Crystal Palace.
Swansea have become the first Welsh club in the Premier League following their 4-2 victory over Reading at a packed Wembley stadium on Bank Holiday Monday.
In a post-match interview, Rodgers said he knew of the story of Idrizaj, who was a "big talent" at the club where he took over last summer.
He said: "So the journey was a great remembrance to him all the way through the season. I felt that he was really in the heart of the players and people."
Rodgers said the club's victory at Wembley was "also for the people that weren't here".
He said: "There's a number of people who weren't here and that memory was dedicated to them."
He revealed the team's celebrations are set to continue after Tuesday's city victory parade when singer Rod Stewart plays a concert in Swansea on Wednesday.
He said: "You have to celebrate success. We had a great motivation going on as we went in to [Wembley] stadium.
"We have Rod Steward playing at the Liberty Stadium on Wednesday and Rod said to us, if we won the game, he wants us all on stage."
He said both the club's staff and players would be taking invitation.
"We're there on Wednesday night, up with Rod, Maggie May, the whole lot. So we're looking forward to that. I love Rod Stewart."