Aberarth shoemaker Ruth Davey wins Balvenie craft award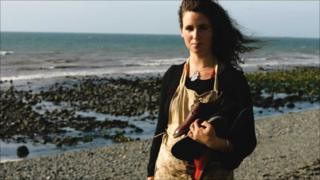 A young shoemaker from mid Wales has won a UK award for craftsmanship.
Ruth Davey, 24, makes bespoke shoes which cost about £300 in a small workshop overlooking the sea in Aberarth, near Aberystwyth.
She has been named the Balvenie Young Master of Craft 2011, which recognises outstanding skill and young emerging talent in the crafts sector.
Ms Davey, of Machynlleth, Powys, spent five years as an apprentice, before she set up her own business a year ago.
The shoemaker says she has a variety of customers from poets, artists and dukes, to doctors, nurses and binmen.
They have included the actress Sophie Thompson, whose roles have included Lydia in the film Four Weddings and a Funeral, and Stella Crawford in the BBC's Eastenders.
Her made-to-measure shoes are crafted out of Italian leather, and are "made to last", she said.
Ms Davey said individual shoemakers were once common in the high street, but they had been replaced by large manufacturers.
"I started as an apprentice when I was 18 with Alan James Raddon, from Aberarth. He wanted to pass on the skill of shoemaking, which is a dying art," she said.
"I started by making shoes for friends and family and then started making shoes for customers."
Ms Davey said she was delighted to win the award. She entered the competition a few weeks ago, but did not expect to win.
She still works occasionally with her mentor, whom she said had made shoes for comedians Billy Connolly and John Cleese.
But she and Mr Raddon have different clienteles, so they "don't step on each other's toes".
Kevin McCloud, the presenter of Channel 4's Grand Designs and one of the award judges, said Ms Davey had "achieved a huge amount".
He added: "Not only does she make beautiful hand-made shoes but she has found a real market for her wares - something that has allowed her, at the tender age of 24, to start the search for her very own apprentice."