Nick Bourne plans to publish Welsh assembly diaries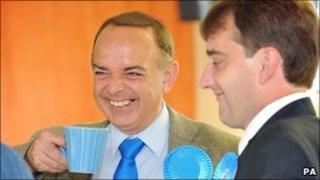 The former leader of the Welsh Conservatives is planning to write a book based on his diaries as an assembly member.
The ex-Mid and West Wales AM Nick Bourne lost his seat in the Welsh assembly elections on 5 May.
In the month since his defeat, he has been mulling over his options but has ruled out a return to the Senedd, saying it would be a "mistake".
But he said he would like to continue as a public servant.
Mr Bourne's election result brought the curtain down on 12 years as an AM.
He said he was "massively disappointed", but he "quickly felt the need to move on".
"I always knew it was a possibility I'd lose my seat," he explained.
Now he is planning to write a book about Welsh devolution with political commentator, Daran Hill.
"It will be based on my diaries from the last 11 years," said Mr Bourne.
"There will be views about political life in Wales and looking at national and international events.
"It's quite a massive undertaking to go over these diaries and I'm meeting Daran later this week and we'll get an idea of timings (when to publish etc)."
Mr Bourne, who lives in Aberystwyth, was among the first crop of Welsh AMs in 1999.
He was born in 1952, and educated at Aberystwyth University and Trinity College, Cambridge.
'Something different'
A former professor of law, specialising in company law, he is a former assistant principal of Swansea Institute of Higher Education (now Swansea Metropolitan University). He is also a visiting lecturer at the University of Hong Kong.
The weeks following his defeat at the polls have been spent following one of his pastimes, walking.
He said he had trekked most of the Ceredigion coastal path and the Dolgellau to Barmouth railway walk, and was at Lord's for England's test match against Sri Lanka. All things he used to not have "time to do".
But he does not want to disappear from view altogether.
The 59-year-old said: "I've developed a great interest in public life and I hope I still have some role to play.
"I had 12 fantastic years in the Welsh assembly. It was a great honour to represent mid and west Wales and bring about changes as leader of the Welsh Conservatives.
"I don't think I'll seek election again for the Welsh assembly. It's time to pass the baton onto others and move onto something else.
"It's always difficult to go back. I enjoyed it thoroughly, but it would be a mistake. It would be difficult for all concerned, as other former leaders would confirm.
"There is an opportunity to do something different. It remains to be seen what I'll do, but I would like to continue working in public life and it's something I have a great interest in.
"I'm not contemplating standing for Westminster, but it's always dangerous to say never."
He is also considering working as a volunteer in education, heritage or culture, but has no firm plans.
But if he wants to continue in public life, but has ruled out a return to the Senedd and a seat at Westminster, what's left? A peerage?
He said: "I keep being asked the question (about a peerage) and it's flattering, but who knows?"
Looking back on his time as the Conservative leader in the Welsh assembly, what were his main achievements?
"Bringing the Conservative Party into the mainstream of politics (in Wales)," he said.
"It was seen (back in 1999) as something irrelevant and it was in decline. My main achievement was to make it the second force (at the last election), but it was a bitter sweet moment at the time (when I lost my seat)."