Fire at Thornwell Primary School, Bulwark, 'suspicious'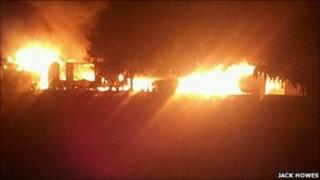 Police say they are treating a fire which partly destroyed a Monmouthshire school as suspicious, although it is too early to say if it was deliberate.
Investigations are continuing into the cause of the blaze at Thornwell Primary School in Bulwark, Chepstow, last week.
Gwent Police said two teenagers, aged 17 and 19, were arrested but have been released with no further action.
The school reopened to the majority of pupils on Tuesday.
Detectives said they are reappealing for information about the fire, which it is believed to have started in the school grounds and spread to the main building.
The infants building and nursery unit were destroyed.
The school reopened to juniors and one infants class on Tuesday, with the rest due to return next Monday.
Head teacher Linda Davies said: "We're determined to be positive and determined to keep the school family together.
"It's really heart warming with the support we've had and how much we've been able to get ready for the children.
"The support has been incredible."
She said school governors, parents, pupils and council officials had been to the school to give their support.
"They're arranging a number of fundraising activities or have been in contact with their employers to see if they can do collections at work," she said.
Local businesses have also been in touch offering to donate items.
Emergency services
Around 180 of the 320 pupils were back in school on Tuesday.
All junior pupils returned but most infant classes will be back next Monday along with the nursery.
Temporary accommodation is being used.
Full details of when classes are returning are on the Monmouthshire council website.
Emergency services were alerted to the blaze at around 0100 BST on Friday, when the school was closed for half-term. Nobody was injured.
Police are appealing for anyone who saw anything suspicious in the area at the time to contact them on 01633 838111.