John Pope denies 1996 Cardiff murder of Karen Skipper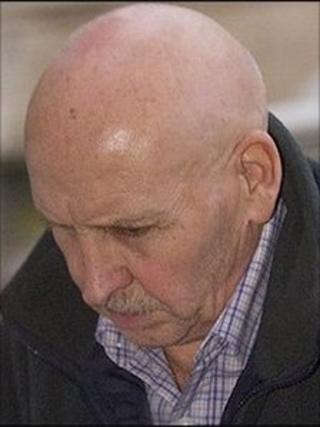 The retrial has begun of a man accused of murdering a woman from Cardiff in the 1990s.
The partially clothed body of Karen Skipper, 34, was found in the River Ely in 1996.
John Pope from Cardiff - now 62 - was convicted of her murder in 2009 but last December his conviction was quashed by the Court of Appeal.
Ms Skipper's former husband Phillip stood trial for her murder in 1997, but was cleared.
Opening the case at Cardiff Crown Court on Thursday, the prosecutor, Ian Murphy QC, told members of the jury: "It's agreed that you should know that John Pope was tried for the murder of Karen Skipper in 2009 and convicted by a jury.
"This was overturned by the Court of Appeal which ordered a retrial."
He said that in the early hours of Sunday 10 March 1996, Karen Skipper had been walking two dogs along the riverbank at Birdie's Field between Ely and Fairwater.
She was attacked, her lower clothes removed, her hands tied tightly behind her back with leads and dog chains, before being thrown into the river where she drowned.
He said: "She must have been terrified.
"As her body lay in the river her dogs stayed on the bank all night. They were still there the next morning when a local man walking his dogs realised something was wrong."
The story made national news and in due course the prime suspect became her ex-husband Phillip Skipper, known as Ginger.
Police assembled a credible case based on circumstantial evidence and motives.
But Mr Murphy said there were always two nagging loose ends - one that shortly before Ms Skipper was attacked there was a man seen nearby wearing a distinctive three quarter length wax coat and a rucksack.
He was never identified, despite a Crimewatch appeal.
The second loose end was that on the lining of her pocket there was a small blood stain and DNA analysis showed that it wasn't her or Phillip Skipper's blood.
Mr Murphy told the court it was suggested that she bought the jeans at the marketplace and someone else had tried them on before she bought them.
But the possibility always remained that it might have been linked to the attack.
He said: "Mr Skipper denied her murder but was charged and put on trial in 1997. A jury acquitted him. We say they were right."
After his death the file remained open.
In recent years - with the benefit of improvements in science - police reviewed unsolved cases.
Mr Murphy said: "They caught John Pope via the national DNA database. In 2006 he was arrested for another offence. He gave a sample of DNA.
"In 2007 that sample was discovered to match DNA on the pocket of the jeans.
"The police investigation re-opened."
The trial continues.