Carwyn Jones wants 'better deal' on Welsh funding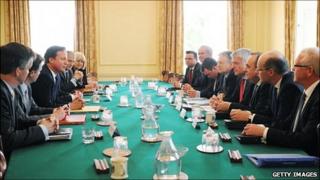 The UK Government should "urgently" reform the way the Welsh Government is funded from Westminster, First Minister Carwyn Jones has said.
He was speaking after a meeting of the devolved administrations with Prime Minister David Cameron.
BBC Wales understands details of a commission to look at funding could be made by next month.
Last year, a review for the Welsh Government suggested Wales lost £300m a year thanks to the Barnett Formula.
It was devised in the 1970s to allocate funds to Wales, Scotland and Northern Ireland.
Mr Jones said the Downing Street meeting was constructive but he again raised the issue of unfair funding for Wales.
"It is imperative that we have a better deal for the way our public services are funded," said Mr Jones.
"With Wales losing up to £300m a year, the time has long passed for this to be looked at."
The First Minister said he made it clear the current system was out of date and reiterated the need for a fairer funding package.
"The UK Government must urgently address this issue and come up with an alternative. However, they can only do this by working with us.
"I have an open mind on what a new settlement might look like, but let me be clear, the Welsh Government will not accept a deal that simply entrenches the current under funding and puts Wales once again at a disadvantage."
The UK Government has promised its own commission to investigate whether Wales is getting a fair deal.
BBC Wales understands that more details on the way that commission will work will be made public before MPs depart for their summer break in late July.
Earlier today, Plaid Cymru accused Mr Jones of being too timid, particularly compared to the other devolved leaders.
Alex Salmond's SNP government is pushing for more powers to be handed over to Edinburgh from London - including devolution of corporation tax, a greater share of excise duty and a Scottish digital TV channel.
The Northern Ireland executive would like to take control of corporation tax rates.
Plaid AM Rhodri Glyn Thomas AM said: "Since the election the Westminster government has been coming under increasing pressure from Scotland and Northern Ireland but unfortunately the message that Labour promised to send on behalf of Wales must have got lost along the way.
"What Labour has so far achieved is to make Wales seem insignificant while other nations lead the debate. Plaid Cymru wants to offer an alternative to that approach. Instead of allowing Wales to be marginalised we should be making it clear to the Conservative and Lib Dem coalition in Westminster, that we are not simply prepared to accept the cuts that they are offering."
Plaid AM Alun Ffred Jones AM said: "Asking for more money for Wales without addressing the fundamental unfairness in the way Wales is funded is like having a bucket full of holes and asking for more water."