Machynlleth turns down third city status bid over cost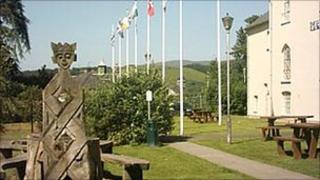 A Powys town refused to bid for city status for the third time as part of the Queen's Diamond Jubilee because it could not afford it, it has emerged.
Machynlleth Town Council said it discussed the matter, but was committed to funding two major projects.
The town has a population of about 2,000, and made previous bids in 2000 and in 2002.
Wrexham and the nearby cathedral town of St Asaph, Denbighshire, are bidding for the status.
Wrexham has launched three previous attempts to become a city, with the last in 2002, when it lost to Newport. St Asaph also tried in 2002.
The entries will be considered by the UK government before recommendations are submitted to the Queen. The results will be announced in 2012.
Machynlleth competed to become a city to mark the millennium, and also applied in 2002 during the Queen's Golden Jubilee celebrations.
It has an historic past and was said to have been home to rebel prince Owain Glyndwr's first parliament.
Town and Powys councillor Michael Williams: "While the town council realised the importance of what being a city meant, together with the status, it felt that on this occasion it would be too expensive," he said.
"At the time, the town council was still fund raising for the town clock, which is much-loved by locals and a major tourist attraction.
"It also had only just taken over the running of the Plas (the former Celtica visitor attraction) and its grounds, and at that time it was not absolutely sure of the associated costs of taking over Plas and the grounds."
Luton, Milton Keynes, Middlesbrough, Colchester and Bournemouth are among a number of other town's bidding for city status in 2012.
Four of the five existing Welsh cities - Newport, Cardiff, Swansea and St David's, thought to be Britain's smallest city - are in the south. Bangor is the only one in the north.
Applications for city status closed last month.