Appeal after £30,000 of motorbikes stolen in Bridgend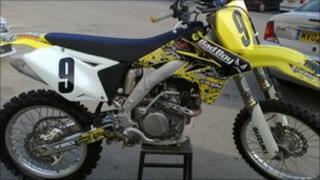 Eight off-road motorcycles worth a total of £30,000 have been stolen during a break-in in Bridgend.
The raiders made a hole in the wall before removing the bikes from Bridge Offroad at Bridgend Industrial Estate.
The burglary took place sometime between 1900 BST on Wednesday and 0700 BST on Thursday.
Sgt John Richards of Bridgend police appealed for information, saying the robbery would have taken some time to carry out.
He said: "We are appealing for any information with regard to this burglary and would like to hear from anyone who may have seen or heard anything suspicious in the area of Queens Court on Bridgend Industrial Estate overnight between Wednesday and Thursday.
"Access to the premises was gained by making a hole in the wall and the eight motorcycles were then removed.
"This would have taken quite some time to carry out and at least one vehicle large enough to transport the motorcycles would have been required."
The stolen motorcycles included: a red Honda CRF 450cc; two 50cc Orange KTMs, a black 250cc KTM; a yellow 250cc Suzuki RMZ; a blue 250cc Yamaha YZ; a black and white 450cc Yamaha YZF and a white 250cc Yamaha YZF.
Anyone with information should contact Sgt Richards at Bridgend police station on 101 or anonymously via Crimestoppers on 0800 555 111.