Dafydd Iwan backs Plaid Cymru leader over absence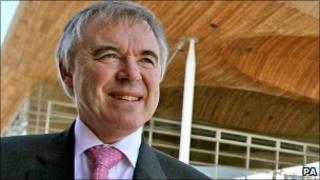 A former Plaid Cymru president says leader Ieuan Wyn Jones's absence from the Welsh assembly's opening ceremony has been "blown out of all proportion".
Dafydd Iwan was speaking as Mr Jones returns to work facing criticism for missing the official opening by the Queen last week.
He was on holiday in France, prompting some calls for him to step down now.
Mr Jones had already said he will stand down in the first half of the assembly's five-year term.
Mr Iwan said Mr Jones now needed to clarify a leadership election timetable since announcing he was step down, but the recent issue should not force the party to be "stampeded into an early election".
"His absence from the opening ceremony has been blown out of all proportion," said Mr Iwan.
"Ieuan is not one to shirk his responsibilities and he will be back this week ready for the work proper."
He claimed the leader "needed a break" after May's election campaign in which Plaid performed poorly, winning 11 of the 60 seats.
"If there is further explanations to be made he will do them himself," he said.
"But I think now he needs to clarify the timetable for the new leadership election but I don't think we should be stampeded into an early election," he told BBC Radio Wales.
On Sunday, Plaid parliamentary leader Elfyn Llwyd criticised party members who want Mr Jones to stand down immediately.
He told correspondent John Stevenson on BBC Wales' Politics Show: "Well the vultures, as you describe them John, are actually the people who were his greatest cheerleaders when he took us that momentous day into government for the first time in our history."
Although his personal view is that Mr Jones should be allowed to stand down in his own time, Mr Llwyd, who leads the party group at Westminster, said he felt he will have gone long before the two-year deadline.
Last month, Mr Jones said it had always been his intention to leave the role at some point before the next assembly election in 2016.