'Selfish' drivers flouting Aberystwyth parking laws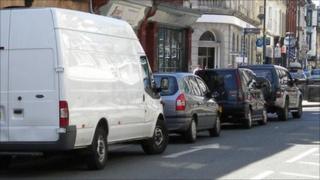 Drivers flouting parking laws in Ceredigion are being "very selfish and potentially dangerous", says the AA.
The motoring group was responding to complaints of parking chaos in Aberystwyth since police-run traffic wardens were phased out on 31 May.
Ceredigion council is to appoint officers to enforce its new civil parking powers, but there will be a gap in the transfer.
Meanwhile, another town in the county has complained of problems.
Control is moving from traffic wardens run by police, in line with other areas, but Ceredigion council says it will take about a year to put its system in place.
The county had three wardens. Two worked in Aberystwyth and the third had responsibility for Cardigan and other towns.
The AA urged drivers to be responsible.
Spokesman Paul Watters said: "This is clearly a bit of a mess - a smoother transition would have been much better.
"Some minor parking offences, like overstaying parking time, are not capital crimes and sometimes the penalties for these can be a bit high, so it is perhaps understandable that some drivers see the situation as cutting them a bit of slack.
"However, many other offences are safety and traffic related and it is very selfish and potentially dangerous of some drivers to flout the parking rules."
He added that drivers in Ceredigion were advised to adopt good parking habits, and prepare for the new system.
Cardigan mayor Catrin Miles fears the situation in her town will worsen when tourists visit in the summer.
"It's a free-for-all as far as parking in concerned," she said.
"Car park charges are high in Cardigan, about £1.20 for an hour, so some people have tended to park illegally [when they were in the town for short periods], but now the wardens are not around, drivers are likely to get away with parking illegally."
Legal power
A Ceredigion council spokesman said the AA offered "sensible advice to motorists".
"Ceredigion County Council has previously explained that the Dyfed-Powys Police's divisional commander had advised the county council that where parking enforcement is required as a priority, for instance in town centres or busy traffic routes, then the police will attend and enforce the traffic orders," he said.
He added that the council did not have the legal power to intervene in car parking enforcement.
"The county council has consistently explained that it would take at least 12 months for the legal powers to be transferred to the county council from Dyfed-Powys Police," said the spokesman.