Crutch amnesty in Neath, Swansea and Port Talbot NHS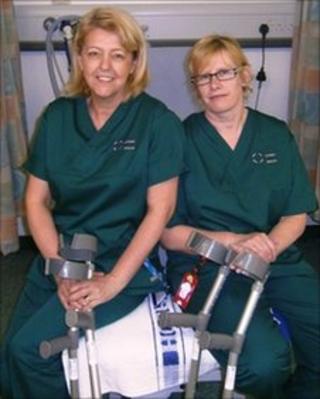 Hospitals in south west Wales are urging people to help them save money by returning crutches they no longer need.
Thousands of sets have been given out free since February last year from Neath Port Talbot, Morriston and Singleton hospitals.
But many have not been returned at a cost of thousands of pounds.
Once returned, the crutches are cleaned and retested before being handed out again.
Since February 2010, 750 sets of crutches have been handed to patients from the Local Accident Centre at Neath Port Talbot Hospital at a cost of just over £5,000.
Only 75 of these have been returned.
At Swansea's Morriston and Singleton Hospitals the figure is 5,500 pairs of crutches issued through accident and emergency, orthopaedics and physiotherapy at a total cost of about £37,000.
"Hospitals are always looking at cost saving and have tight budgets so we really can't stress the importance of returning crutches or any piece of hospital equipment that can be used again," said Yvonne Williams, senior sister at the Local Accident Centre at Neath Port Talbot Hospital.
"If you have any crutches at home lurking in the garage or in the back of the cupboard please return them," she added.
Lisa Bevan who has worked as a health care support worker at Neath Port Talbot hospital for 20 years, said part of her role is to order the crutches.
"I was shocked to see how much money we spent over the year," she said.
"Members of the public could really help save the hospital money by returning unwanted crutches," she added.
Older wooden crutches are recycled and sent to Sierra Leone as part of a health links project.