Guto Bebb MP criticises slogan paint language protest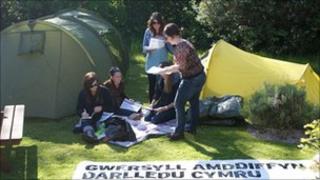 An MP has questioned why he was being targeted by Welsh language campaigners, as part of a protest over cuts to S4C.
Aberconwy's Conservative MP Guto Bebb complained after slogans were painted at his office.
Cymdeithas yr Iaith Gymraeg (the Welsh Language Society) said campaigners also climbed the relay building at Nebo, Gwynedd, to get their message across.
Mr Bebb said he was a "friend" of the TV channel and had been trying to help it.
The society said members painted slogans at Mr Bebb's office.
Mr Bebb questioned why "friends of the channel" were being targeted.
He said he has been trying to help the channel.
"Why are they targeting friends of the channel?"
"They targeted Lord Roberts throughout the 80s, but who was it that really helped the Welsh language?"
Cymdeithas also has an ongoing protest camp outside the BBC offices in Bangor.
'Sensible and effective'
In a video message broadcast via mobile phones from the protests, Cymdeithas chair Bethan Williams said: "It's a very black time for broadcasting in Wales.
"There's a danger there will be no programmes by S4C or BBC Wales due to the cuts so it's very likely that this - pirate TV - will be the future of Welsh broadcasting."
S4C faces a 25% budget cut by 2015 as part of last autumn's Spending Review by Chancellor George Osborne.
The channel will be funded from part of the BBC licence fee from 2013.
The chair of the BBC Trust Lord Patten said this week he wanted to see a "sensible and effective partnership" between BBC Wales and S4C.
"My principal priority in the short term is to work with and not over S4C to produce even better programmes," he said.‬