Toddler's solo bus trip from Montgomery to Shrewsbury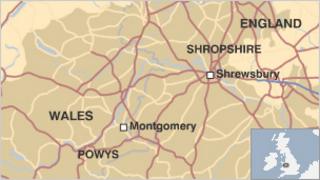 A toddler has managed to travel alone 28 miles (45km) from Powys to Shropshire after getting on a bus.
The two-year-old boy got on with other passengers at Montgomery on Monday morning and was only noticed when the bus reached its destination at Shrewsbury.
The driver immediately contacted police. Two people were bailed after questioning.
Police said the child was unharmed and a full investigation is under way.
Nick Culliford, operation manager at Tanat Valley Motors, which runs the service, said: "This little toddler climbed on the bus and ran down the back of the bus.
"Of course, people on the bus must have thought it belonged to one of the people getting on the bus.
"They got to Shrewsbury and people were getting off, and the driver said: 'Excuse me, there's a child here'.
"People said 'not mine' and then it suddenly dawned on people that the child belonged to nobody."
Dyfed-Powys Police confirmed a two-and-a-half-year-old child from the Montgomery area got onto the bus with other passengers.
Insp Jonathan Tatton said:"It was only when the bus reached its destination in Shrewsbury that it became apparent to the driver that the child was unaccompanied.
"The driver immediately contacted Shrewsbury police which resulted in Dyfed-Powys Police making inquires to locate the parents."
'Thorough investigation'
He said two people were arrested and remain on police bail pending further inquires involving Dyfed-Powys Police's public protection unit and Powys Council's children's services team.
He said the circumstances were highly unusual, but "fortunately the child didn't come to any harm and a thorough investigation is now under way to establish how this occurred".
The boy was initially looked after by West Mercia Police officers and staff at their office in Shrewsbury town centre.
Powys council said: "We are working with other agencies including the police but cannot comment until the conclusion of all proceedings."