Cardiff chemist graduate Edward Holland's drugs supply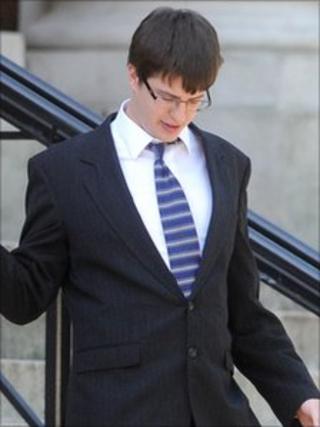 An academic "high flyer" who became a drug dealer has avoided a jail sentence after a court heard his talents could be used to benefit society.
Doctor's son Edward Holland, 24, was using cannabis for years and became addicted, Cardiff Crown Court heard.
The PhD biochemistry student, of Cathays, Cardiff, admitted possessing and supplying cannabis and possessing and offering to supply cocaine.
He was sentenced to 12 months in jail, suspended for 18 months.
He was also ordered to carry out 200 hours of unpaid community work.
The court heard Holland had "a lot to offer society", and locking him up would be a waste of his potential.
Tim Evans, defending, said: "He has a masters degree in biochemistry and is studying for a PhD.
"He has a lot to offer the scientific community and he may well be able to use his scientific ability to benefit other people.
"It is nearly unique to see someone like this facing drug dealing charges.
"He comes from a very caring and devoutly religious family. His mother is a specialist teacher and his father is a GP.
"They are in the court and to watch him sentenced as a drug dealer is, in some ways, the most serious lesson he can learn."
The judge Lord Justice Hughes said Holland was clearly a highly intelligent young man but had to make a choice about the direction his life would take.
Smelled cannabis
"You can either choose to become a successful scientist with all the rewards that may bring or you can become a drug dealer and serve increasingly long sentences in jail," he said.
The court heard Holland was caught when police pulled over his car and smelled cannabis.
They searched the vehicle and found £820 in cash, 6.89g of cannabis and 1.7g of cocaine.
Officers analysed Holland's phone and found more than 500 text messages arranging drug deals.
The court heard Holland had been using cannabis for eight years and had become addicted two years ago.
He supplied five people over a period of four months, making between £100 and £200 a week.