Civilian traffic officers begin training for A55 duties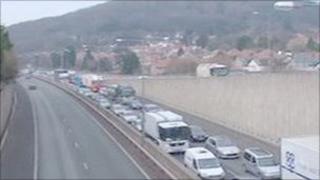 A extra team of civilian traffic officers are being taken on to help cut congestion on the A55 in north Wales.
The 21 officers, who will have some police powers, are starting training ahead of their first patrols.
Once fully trained, the officers will patrol in marked cars from August, and will be able to stop, control and direct traffic.
The Welsh Government scheme has also seen similar officers patrol the M4 in south Wales since 2010.
Transport Minister Carl Sargeant said it would have a positive impact on congestion and free up police officers.
The officers will report for duty at the North Wales Traffic Management Centre in Conwy later on Monday.
It follows a trial on the A55 which started in 2009.
The Welsh Government hopes the officers will reduce the call-out time to deal with routine traffic delays, therefore easing congestion.
Mr Sargeant said: "By having civilian traffic officers patrol the A55 we will help free up police officers to concentrate on crime on the roads that affect the safety of road users.
"Through close collaboration with North Wales Police we'll ensure that the expanded patrol service continues to meet the needs of this vital route for the region."
Since September 2009, the Welsh Government says its traffic officers have attended about 10,000 incidents on the A55 and M4.