Union leaders meet Jane Hutt ahead of pensions strike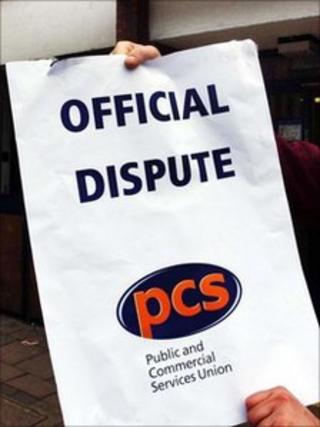 Leaders of four unions in Wales whose members are set to strike on Thursday are calling on the finance minister to put their case to the UK Government.
They are meeting Jane Hutt to explain why 40,000 public sector staff in Wales are taking action over pension changes.
They want her to make representations to Welsh Secretary Cheryl Gillan and other ministers.
The Welsh Government said it was focused on minimising the impact of any industrial action.
Members of three teaching unions - National Union of Teachers (NUT), Association of Teachers and Lecturers (ATL) and University and College Union (UCU) - and the Public and Commercial Services Union (PCS) are taking industrial action in Wales from midnight.
Nearly half of Wales' 1,800 schools will be affected.
The walkout by other public sector workers is also expected to hit government departments including the DVLA, the pension service, the court service and the passport office.
The National Library of Wales in Aberystwyth and National Museum Wales will also be closed if the strike goes ahead, while a walkout by immigration and customs officers is expected to cause disruption at Cardiff Airport.
Prime Minister David Cameron made another call for the action to be called off during Prime Minister's Questions on Wednesday.
PCS National Officer for Wales Peter Harris has asked for the 1430 BST talks with Ms Hutt for the unions to explain why Welsh Government staff are going on strike.
He said: "We are meeting the Welsh finance minister to ask her to make representations from the Welsh Government to the UK Government and to support our case for meaningful negotiations.
"We accept that it's not a dispute of the Welsh Government's making but clearly ministers need to know what's happening and why.
"I'm optimistic that the first minister or the finance minister will make representations in the talks they have with the UK Government about the concerns they have about public sector pensions.
"There are significantly more public sector employees in Wales as a proportion of the workforce in Wales than in other parts of the UK."
Picket lines
Wales TUC General Secretary Martin Mansfield will lead the delegation of the union regional officers meeting Ms Hutt.
The Welsh Government insists the unions are in dispute with ministers in Westminster about the proposed changes to public sector pensions, not with ministers at Cardiff Bay.
Welsh Government ministers are expected to work as usual if the strike goes ahead but not to cross any picket lines.
In a statement, they said: "Pensions are not a devolved matter, and the focus of the Welsh Government is now to minimise the impact of any industrial action on our public services."