Nature reserve opens at Shotton steelworks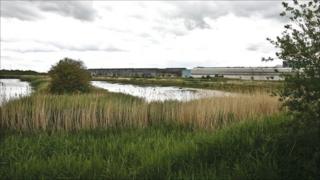 A new nature reserve and one mile (1.6km) circular walk has opened in the shadow of Flintshire's sprawling steel works site.
Tata Steel has opened the reserve which comes complete with bird hides at Shotton steelworks on Deeside.
Workers and local volunteers have been cultivating the conservation area for years.
It has become home to one of the UK's biggest common tern colonies and a Site of Special Scientific Interest (SSSI).
Shotton Works Nature Reserve has been officially opened so school groups can get closer to nature.
An indoor classroom has been created by workers who gave up their spare time during a year-long project.
The area is recognised nationally as an SSSI because of its reed bed habitat and summer nesting sites for the common tern.
The man-made lagoons are used for circulating clean factory water from the works into the adjacent River Dee and estuary.
'Discovering wildlife'
The reserve's unusual location has been the secret of its success, seeing common terns' numbers increase from 12 pairs to 686 in 40 years.
Over time, a number of other bird and wildlife species have made the lagoons their home, said Ian Russon, Tata Steel's environment manager.
"This is a unique habitat that demonstrates how industry and nature can co-exist in harmony," he said.
"Visiting children can see the industrial heritage while exploring the natural environment and discovering wildlife."
The Countryside Council for Wales (CCW) helped fund the project.
Other environmental and wildlife groups involved include Flintshire Coastal Rangers, Dee Wildfowlers and the Merseyside Ringing Group.
Its members monitor the birds on the site which is overlooked from Flintshire Bridge on the A548 Deeside-Flint road.