Mullany honeymoon murders: Accused 'bugged' in cells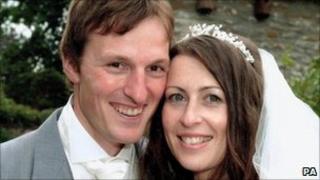 Two men accused of murdering a honeymoon couple at a Caribbean resort were bugged in their cells in a police operation, a court heard.
Ben and Catherine Mullany, both 31, from Pontardawe, Swansea Valley, died after being shot at the Cocos Hotel and Resort in Antigua in July 2008.
The conversations of Avie Howell, 20, and Kaniel Martin, 23, who deny murder, were recorded around the clock.
Antigua's High Court was told British police were seconded for the operation.
The Mullanys were on the final day of their honeymoon when they were attacked.
Mrs Mullany, a doctor, died instantly while her husband, a student physiotherapist who was a former South Yorkshire police officer, was flown back back to Britain for treatment.
Audio techniques
He was pronounced dead a week later at Morriston Hospital, Swansea.
Det Sgt Sean Phillips, of the Metropolitan Police, told the court he was part of a specialist team that travelled to Antigua.
The officers used covert equipment to record the defendants' conversations in cells at the headquarters of the Royal Police Force of Antigua and Barbuda.
Det Sgt Phillips told the court he and another Metropolitan Police officer also taught four local officers to use the equipment.
Using two separate devices, to ensure back up, they carried out around-the-clock recordings from 14 to 17 November, 2008.
The recordings were handed to a Metropolitan Police forensic audio engineer who made compilations and used filtering and audio techniques to increase their clarity.
Mr Howell, of Golden Grove, Antigua, and Mr Martin, of Tindale Road, also deny killing local shopkeeper Woneta Anderson, 43.
The trial continues.