Hundreds take part in Beach Rugby Wales at Swansea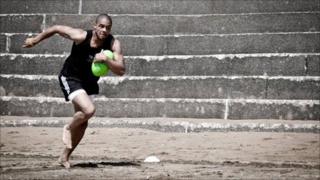 More than 2,000 people turned out to watch a fast-growing beach rugby tournament which has attracted hundreds of players.
Beach Rugby Wales 2011 took place on the sand in front of Swansea's civic centre on Saturday.
The five-year-old event featured a record 36 teams this year including 12 women's teams.
Former Wales player Arwel Thomas captained one of the teams, which lost in the semis to the overall winners.
The seven-a-side touch rugby event started on a much smaller scale in 2006 with just six teams.
Last year saw the birth of a women's tournament, which runs alongside the men's event, and there are now some 400 players involved in total.
The winners of the men's section, Team Evolution, from Ammanford, go on to represent Wales at a tournament in Italy.
Founder Ashleigh Walters said the contact sport could get a bit lively on occasions.
He said: "Two years ago in the semi-final we had a 20-man brawl when a young team was playing against a veterans' team!
"This year the atmosphere was was very good. It was a bit hostile with some of the refereeing decisions.
"There were a few fisticuffs now and again on the pitch but that is beach rugby."
The tournament of 54 games was played between the tides.
The first game kicked off at 1030 BST and the final ended shortly after 1700 BST, with the surf barely 3m (10ft) from the touch line.
The ladies tournament was won by Seven Kidz.