Former boxer Joe Calzaghe lands role in horror movie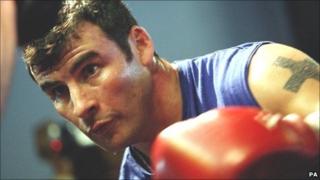 Welsh boxing legend Joe Calzaghe has landed two acting roles, including one in a horror movie.
The former super-middleweight has been taking acting lessons since 2010, trying to carve out a new career after quitting the boxing ring in 2009.
The films feature legendary actor John Hurt and Rupert Penry Jones, star of TV dramas Spooks and Whitechapel.
Calzaghe is also backing WBA world heavyweight champion David Haye in his fight later with Wladimir Klitschko.
There is mutual respect between the sportsmen as Haye says Calzaghe has the "talent and intelligence" to achieve his goals.
Calzaghe from Newbridge, south Wales, is Britain's only undefeated boxing world champion with 46 wins from 46 fights.
Little is being said about either of his roles ahead of an official announcement by the production companies behind the films.
But Calzaghe has said previously he does not want to be type cast in hard-man roles because of his boxing past.
'Awesome shape'
Calzaghe is a former winner of the BBC's Sports Personality of the Year and took part in the 2009 series of TV's Strictly Come Dancing.
His agents say he has been "working extremely hard" with acting lessons in London for several months.
Filming on both movies will start later this year which Calzaghe describes as "exciting".
On Friday, he posted this message on his Twitter page: Really happy today! Have landed a good roll (sic) in an exciting new horror film!:-)
He also tweeted being "psyched" about Saturday's fight between WBA world heavyweight champion David Haye and Wladimir Klitschko.
Last month Calzaghe, who now lives in London, spent two hours watching Haye training in his gym in Vauxhall where he described the boxer as being in "awesome shape".
Meanwhile, Haye tells his official website he expects Calzaghe to do well in his new career.
"Joe is one of the few guys to have the talent and intelligence to achieve his goals and get out when the going was good," he said.