Vandals with iron bar attack man in Monmouth street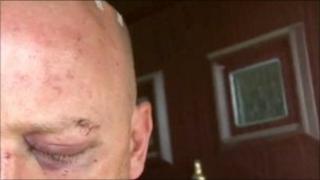 A man from Monmouth, who tried to stop a neighbour's car being vandalised, was beaten with a metal pole by drunken youths.
The man, who did not want to be named for fear of reprisals, was with his girlfriend on Saturday night.
Witness Alan Hope said: "The gentleman was an innocent party. He was walking away. It was like a riot out here."
Gwent Police said a number of arrests have been made. They are appealing for witnesses.
Residents say anti-social behaviour by drunken youths is rife in the Somerset Road area, especially at the weekend.
Mr Hope said: "The same thing happens every Saturday, regular as clockwork. The drunks come out the pub, they walk up the street and they start damaging the vehicles.
'All hell broke loose'
"We heard somebody having a go at a car. I'm presuming he had seen what they'd done and just had a quite word with them, and he walked off. He walked across the road.
"I heard them say words to the effect 'come on, the three of us can have him' and I see the lad smash the bottle on the pavement."
"All hell broke loose then. And the gentleman was getting beaten around the head with an iron bar.
"They were just drunk and abusive. And they threatened me, and all. They told me to watch my back and one thing and another. It was very scary."
The man is now recovering at home.
Local people are urging the police to step up patrols.
A police spokesperson said: "Gwent Police can confirm a disturbance took place late on Saturday 2 July in the Monmouth area and a number of arrests have been made.
"They are continuing with their enquires and would welcome any witnesses to contact them."