Path idea from Brynteg school, Bridgend to McDonald's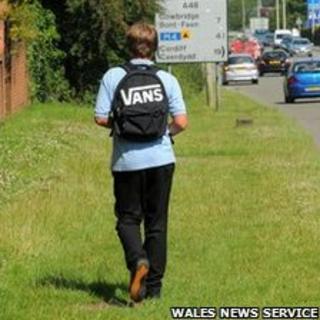 A footpath has been suggested to ease road safety fears, including school pupils using a McDonald's restaurant.
Some 200 pupils from Brynteg Comprehensive School in Bridgend walk along a verge next to a busy bypass every lunchtime.
The head and governors of the school have given their backing to Bridgend Town Council's idea for the footpath.
The town council said the path was needed for their safety to the retail park.
Head teacher David Jenkins said: "The road, as a major route, is extremely busy and presents a significant hazard for our pupils.
"The establishment of a footpath along the proposed route would significantly enhance the safety of our pupils."
The path would run along the A48 dual carriageway where there is currently a grass verge.
The path is part of the town council's community access plan, which has been discussed and could be put forward to Bridgend county borough council.
No plan has yet been submitted to the county council, which has rejected suggestions any path would be specifically aimed at easing access for pupils to the restaurant.
Local councillors have pointed to wider road safety issues involving the nearby Picton Gardens estate, close to the school and the retail complex which also includes a supermarket and DIY store, as well as the restaurant.
Parents with buggies and elderly people with motor scooters also have difficulties.
Town council spokeswoman Barbara Parish said many children walked the route and road safety was "far more important than risking more pupils eating fast food".
She said: "They are taking risks walking along that road and they will carry on doing it, putting themselves in danger.
"For me, the safety of the children is more important than the possibility that more children are going to use the route.
"We are not encouraging them to go to McDonald's, as they are going anyway.
"Maybe one or two more might go because of this, but the good of the majority has got to come first."
One parent in the McDonald's said: "It's nice for them to get out of school and as long as they eat healthy at home it's fine."
A McDonald's spokeswoman said: "The decision to build this footpath was made at a local level by the council without any involvement from McDonald's."
A Bridgend County Borough Council spokesman said no firm plans or proposals were in place, while there was already a pavement in place on the opposite side of the carriageway.
He said at no time had the town council or the headteacher discussed creating any links to fast food restaurants.