Rebecca Aylward case: Friend of defendant denies murder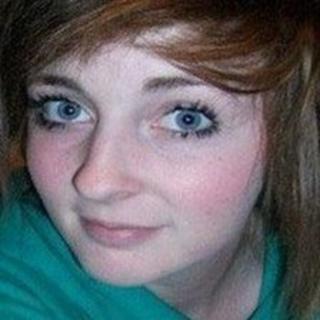 A friend of a schoolboy accused of murdering his former girlfriend has denied the defence team's claim that he is the real killer.
Rebecca Aylward, 15, of Maesteg, was found dead in woods in Aberkenfig in October last year.
The defendant, 16, an ex-boyfriend, denies murder at Swansea Crown Court and claims his friend is the killer.
But the friend, also 16, denied losing his temper and hitting her head with a large stone.
He admitted having previously called her names and threatened to drown her in a river.
But he denied losing his temper with her and said she was already dead when he saw her body in woodland.
Rebecca's body was found in a disused quarry a few days later.
The teenager, the main witness for the prosecution of his friend, said he had been joking when he talked about the defendant getting a free breakfast if he killed Rebecca.
He denied going on to tell the accused "it's time to put your money where your mouth is".
Neither teenager can be named for legal reasons.
Cross examined by defence barrister Peter Rouch QC, he said the defendant had called him and another friend to the quarry where he told them he had killed Rebecca.
The youth climbed a gorge and saw her body.
Mr Rouch said the truth was that the defendant and Rebecca had been making fun of him.
When he reached the top he found them laughing at him and he lost his temper, the court was told.
"When she turned her back you grabbed her by the wrists and threw her to the floor," said the barrister.
'Grabbed the stone'
"No," he answered.
The barrister said that Rebecca then swore at the teenager.
"That's when you grabbed the stone and smashed her head," he said.
He replied: "No. I never saw her alive that day."
He said he went to the gorge because he wanted to see Rebecca's body with his own eyes.
The teenager said the defendant had told him several times that he wanted her dead.
This was partly because she was telling schoolfriends that the defendant had raped her.
"It was just nonsense talk, or I thought it was. People talk about killing each other all the time," he said.
Having a temper
"He said he would make it look like an accident."
The teenager denied having a temper, but agreed he had been told that he had once broken a girl's ribs by throwing her against a rugby post.
He had also once become drunk at a birthday party and spat beer into people's faces.
"I apologised the following morning," he said.
The court has heard that the two boys ran from the forest, but did not report Rebecca's death.
Her body was found the next day after her mother reported her missing.
It is claimed the defendant's friend arranged to buy him a breakfast if he carried out his threat to murder Rebecca.