Welsh Black Cattle society shake-up criticism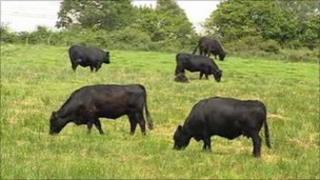 Some members of the Welsh Black Cattle Society say a decision to sack its chief executive has split the membership.
The soceity's chairman said the decision to make Andrew James redundant was difficult but a financial one with the future uncertain.
Members will now be asked to market the breed within their own counties.
But Hywel Davies, council member for Glamorgan, says this will not work and claimed the society was "rudderless".
The society's website notes the breed is one of the oldest in Britain, having inhabited the hills of Wales since pre-Roman and pre-Christian times.
The decision to remove the chief executive's post was taken by a meeting of the Welsh Black Council in May.
A report before the meeting is understood to have contained three main recommendations:
Continuing the society without a chief executive
Closing the society's building in the Royal Welsh show ground in Builth Wells
Redundancy of the secretary at Builth Wells.
Members of the council voted to keep the secretary.
It was decided that the show ground building - currently being renovated at a cost of £120,000 raised mostly from sponsorship money and local events - should stay open.
The option to remove the chief executive post was voted for by 15-12.
The society has a secretary in an office in Caernarfon, Gwynedd, but it does not own that building.
'Nullifies'
Chairman, Robert Jones, said it was a financial decision, and although the society are not struggling financially at the moment, the future looks uncertain.
Andrew James said he wishes the society every success in the future, and has no further comment to make.
Hywel Davies, one of three council members for Glamorgan, said he has great concerns about the future of the society.
"It's been left rudderless and with no-one in control, working out of two centres with one person in each," he said.
"I hope we can move on and resolve this matter for the good of the society... (but) I would say it's completely impossible to run the society without a chief executive to provide an effective service for the members.
"If we don't do that it nullifies the whole purpose of the society," he added.
Robert Jones, the Welsh Black Society chairman said the decision was "purely financially based".
"It was a difficult decision to make as no-one wants to see someone lose their job," he added.
"With the economic climate as it is though, registrations are less... which is where the core income comes in," he added.
He denied there was any plot to get rid of the chief executive and said there was "no bad feeling".
"Circumstances are as they are, we'll work together, that's the way forward," he said.
"Volunteers are promoting at a more local level and we're on the other end of the phone," he added.