Wales coastguard stations: call for risk assessment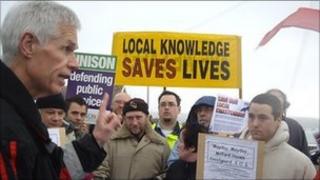 Campaigners fighting plans to close Milford Haven and Holyhead coastguard stations are calling for immediate independent risk assessments.
The UK government is reviewing plans to close more than half of coastguard centres, and cut 24-hour rescue stations from 18 to three.
It said it expected the modernisation would make the service stronger.
But campaigners have petitioned the Welsh Government, urging the risk assessments.
Under the plans, Milford Haven and Holyhead stations could close and Swansea would operate in daylight hours only.
Save Milford Haven Campaign Group said it was concerned for tourists' safety. It handed in a petition on the steps of the Senedd in Cardiff Bay on Wednesday.
It is calling for risk and impact assessments on the safety of tourists visiting in light of the proposals.
Local knowledge
Save Milford Haven Campaign Group spokesman Dennis O'Connor said: "Many people have voiced concerns over the extent to which proposals... to close over half of UK coastguard stations have been risk assessed.
"As a campaign group we are aware that HM Coastguard is not a devolved responsibility, but insist that concerns raised by coastguard campaigners in Milford Haven and Holyhead about the loss of vital local knowledge - which could lead to delays in tasking of correct search and rescue teams - should be addressed without delay by the Welsh Government."
Milford Haven coastguard station watch manager Graham Warlow said there were concerns for everyone who used the Welsh coastline, but it was "important that our government here in Wales is made fully aware of any increased risks to tourists who are less familiar with our coast".
"The risk assessments published to date have been strongly criticised and with alternative proposals expected to be announced shortly, we believe that Wales needs to place greater scrutiny on the process," he added.
A Welsh Government spokesman said the proposals to close the Holyhead and Milford Haven coastguard stations were "short-sighted, especially given the two natural gas terminals now in full operation in Milford Haven".
'Optimistic'
"However, this is a non-devolved matter. It is up to the UK government to account for the consequences of their actions," he added.
The proposals have led to protests at both Milford Haven and Holyhead and a 20,000-name petition was handed in to Downing Street last week.
Preseli Pembrokeshire MP Stephen Crabb has said he was "optimistic" the Milford Haven station would be spared.
The UK government is due to make a decision later this month.
A Commons Transport Committee inquiry last month raised safety concerns about the UK-wide plans and called for them to be dropped.
A Department for Transport spokesperson said: "The proposals put forward are in response to a need to bring the way coastguard rescues are co-ordinated into the 21st Century, making the service stronger, more resilient and improving its services at the front line.
"This need will not simply go away, but this has been a genuine consultation exercise and the government is committed to taking all points of view into account.