AMs' vote will decide barred Lib Dem Aled Roberts' fate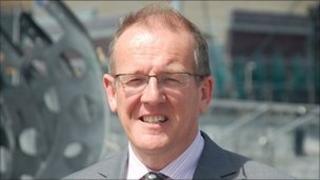 Assembly Members are due to vote to decide the fate of a Liberal Democrat barred from the Welsh assembly after May's election.
Aled Roberts, who was elected a North Wales AM, fell victim to out-of-date candidate guidance and disqualified.
The watchdog body the Electoral Commission has apologised to him.
Fellow Lib Dem John Dixon was also disqualified at the same time but will not regain his seat after his party withdrew a motion to reinstate him.
Mr Roberts was barred from the assembly for being a member of the Valuation Tribunal for Wales, a body to which AMs cannot legally belong.
Assembly standards commissioner Gerard Elias QC blamed the Electoral Commission for failing to update its Welsh language website to include the tribunal on the list of organisations to which AMs cannot belong.
'Mistakes made'
Although the English language guidance was up-to-date, the Welsh language version pointed Mr Roberts towards regulations from 2006. They were replaced by a new order in 2010.
The report found Mr Roberts "did everything that he could have reasonably been expected to do in ensuring that he was not a disqualified person for the purpose of nomination or election to the national assembly".
In a statement, the commission said "there were mistakes made" in its guidance for candidates.
It said: "We regret and apologise for this very rare error and have reviewed our internal processes to ensure such an error does not occur in future."
It added that the Welsh Government did not formally tell it that the rules had been updated.
Welsh Lib Dem leader Kirsty Williams said in a statement: "I will do everything I can to persuade colleagues that Aled Roberts should take his rightful place in the assembly.
"Based on the contents of the Elias report, it is hard to see how any reasonable person could conclude otherwise."
But the commissioner was critical of the conduct of South Wales Central candidate Mr Dixon.
He had to stand down because he was still a member of the Care Council for Wales, which regulates social care workers.
The investigation said he did not check the relevant rules for candidates.
Mr Dixon, 46, a graphic and web designer, has been a Cardiff councillor for 12 years and was an assembly candidate at two previous elections.
He was replaced by the party's number two regional candidate, Monmouthshire-born Eluned Parrott, who is based in the Vale of Glamorgan and was sworn in as an AM on Wednesday.
Lib Dem AM Peter Black said Mr Dixon agreed with the decision to withdraw the vote about reinstating him.
He told BBC Wales's AMPM programme that the motion on Mr Roberts's fate was a "quasi-judicial" decision and that AMs had to vote on the basis of the evidence.
"It's very difficult to now how it's going to pan out," he said.
"My view is that we have a very strong case for Aled Roberts."