Councils in Wales hit by soaring cost of metal thefts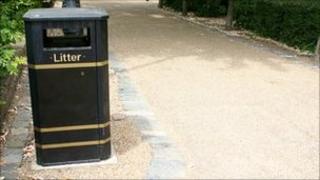 Councils have been hit by a massive jump in the cost of metal thefts.
Figures obtained by BBC Wales suggest such thefts have cost Welsh local authorities almost £680,000 this year, more than double the previous year.
Officials say the problem is so great it is having a knock-on effect on other council services.
Vale of Glamorgan council had £80,000 of copper cable taken, Caerphilly spent £70,000 on replacing bins, and Swansea lost £50,000 in manhole covers.
Rhondda Cynon Taf council (RCT) has also been hit hard, with hundreds of thousands of pounds being spent on replacing stolen items over the past four years.
Nigel Wheeler, RCT streetcare service director, said: "One we had was on the A4119 from Clydach to Tonyrefail where we had a call saying all the manhole covers were stolen.
"We had to shut the road to make it safe. That was a nightmare. It had a knock-on effect to commuters and a cost to us.
"In the current climate when we need all the revenue we can get, it's a real problem.
"We can't do things we would like to because we have to replace stolen equipment."
The council has previously said live wires had been left hanging and roads plunged into darkness due to the theft of copper street light cables.
Thieves have been attracted by rising prices for scrap metal.
The figures, obtained from councils through a Freedom of Information request, suggest metal thefts have cost Welsh councils more than £1.7m over four years.
In 2010/11, the cost was £677,550, compared to just under £290,000 the previous year.
The true cost is likely to be significantly higher as several councils were unable to provide full figures.
Mr Wheeler said the three main items being targeted were copper cable, manhole covers and litter bins.
"Last week we had about £6,000 worth of manholes go again. They're getting about £200 or £300 scrap for about £6,000 worth of manhole covers," he said.
"We're trying to get the public to report it if they see anything suspicious."
The problem is not confined to RCT, but it is councils in south Wales that seem to have been hit hardest. However, several councils in north Wales did not have full details available.
Caerphilly council forked out £129,766 in 2010/11 to replace stolen items, including £70,000 for metal bins and £50,000 for manhole covers.
In the Vale of Glamorgan in November, thieves stole about £80,000 worth of copper cabling at Atlantic Trading Estate in Barry.
Police say nobody has been arrested in connection with the incident but the investigation is ongoing.
In Bridgend, the number of manhole and gully covers stolen has risen in each of the past four years. Some 59 were taken in 2010/11 at a cost of £17,700 to the council.
And Swansea council has had more than £300,000 worth of manhole covers alone stolen in the past four years.
Deter thieves
The authority said it was an issue about the safety of pedestrians and drivers, as well as cost.
However, the thefts are not a problem everywhere, with Neath Port Talbot and Monmouthshire councils having no recorded metal thefts.
Action is being taken to deter thieves, with police forces teaming up with councils and Environment Agency Wales to carry out joint operations.
This often involves spot checks at scrap yards and on vehicles carrying scrap metal.
Ch Insp Glyn Fernquest, of Gwent Police, said Operation Ignite had been targeting metal theft across the force area since April.
"Metal theft has become as increasing issue for UK policing in the last 18 months, with the knock-on implications often creating more problems than the actual crime.
"For example, repairing damage caused on railway lines, roads and in utility substations, which can cost hundreds of thousands of pounds and can cause rail delays, congestion on roads and electricity blackouts.
"It is also a high-risk crime as the offenders often risk their own lives in the process."
Some councils are also said to be turning to composite materials to deter thieves attracted by the scrap value of metal.
Tim Peppin of the Welsh Local Government Association said the rise in thefts created a very "difficult" problem for councils.
He told BBC Wales: "These things have to be replaced because they have such an impact and you could be risking life and limb if you didn't.
"It's not just a case of replacing the materials, you need people to repair the damage and monitor it and unfortunately that cost has to be met and has to come out of the transport budget or out of reserves."
He suggested more councils looked towards deterrent measures such as SmartWater technology - a solution which can be seen when exposed to ultra-violet light and links materials to their rightful owners.
Local authorities are not the only ones counting the cost.
The Church in Wales said it had experienced a 325% rise in metal thefts last year, while communications companies have had broadband services brought down by cable thefts.
A task force has also been set up to deal with metal thefts in Wales.