South Wales valleys 'may fail on recycling targets'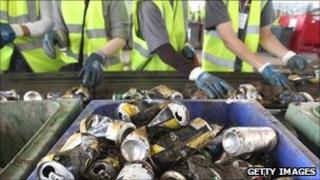 A south Wales valley council plans to ask local groups to take over some recycling schemes, as a report warns that similar areas will miss targets.
The Welsh Government believes the population make-up of Merthyr and other valleys make it unlikely they will achieve recycling aims, says a report.
Merthyr's record compares badly with more rural and affluent areas and the council says it wants to change habits.
Councils will be fined for failing to hit 52% recycling targets by 2012-13.
Officials want householders on the Gurnos and Galon Uchaf estates Gurnos - which have been described to BBC Wales as blackspots of low levels of recycling - to run a pilot project serving 2,500 properties.
It would employ local people and plough profits back into the area.
Merthyr councillor Tony Roberts, the cabinet member with responsibility for recycling, said he hoped the pilot project would become a landmark for other authorities.
"It will encourage people who are not recycling," he said.
"It's a community-combined effort, it's not just the local authority."
A report to Merthyr County Borough Council's cabinet committee on Wednesday said there had been concerns that the "demographic" in Merthyr and other valleys made it unlikely they will achieve their targets.
One of the aims of the new plan, according to the report, was to show that "the community is responsible and can willingly take a meaningful and active" role.
Across Wales, the average figure combining all waste recycled by local authorities stands at 44% for 2010-11, according to figures released last week by the Welsh Government.
Merthyr recycled 35% compared with areas like Denbighshire (55%), Anglesey (54%), Monmouthshire (48%), and the Vale of Glamorgan (40%).
Councils will incur fines if they fail to meet Welsh Government recycling targets of 52% by 2012-13.
'Combined effort'
Merthyr's cabinet committee gave their backing to the idea to set up the community-run scheme after receiving the report which said similar projects elsewhere in Wales were proving a success with better recycling results.
It cited examples in communities in Presteigne and Norton in Powys and Eglwysbach in Conwy, adding St Arvans in Monmouthshire had "achieved high recycling" through a zero waste approach.
These schemes are in rural areas whereas the pilot project on the estates in Merthyr is understood to be the first urban scheme in Wales.
Welsh Government figures show rural local authorities continue to have the highest annual reuse, recycling and composting rate (44.7%), while urban local authorities had the lowest in 2010-11 (42.7%) closely followed by valley authorities (43.3%).
It is hoped to have the scheme set up by next April, run in conjunction with the council, the local Communities First group and Wales' Community Recycling Network which manages Welsh Government funds available to support so-called Zero Waste initiatives.
Environment Minister John Griffiths said: "By 2014 we will face an additional £50m a year in landfill taxes if we continue to throw away the same levels of waste, so there is a financial imperative to recycle everything we can.
"In addition we know that high recycling equals more jobs."