Tough times ahead for Wales' agricultural shows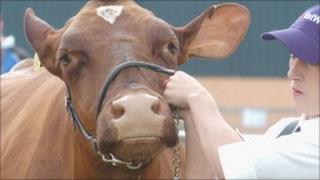 Tough economic times and farming restrictions have seriously impacted on Wales' agricultural shows, organisers say.
But while some have closed, the survivors are working harder than ever to draw the crowds.
Bridgend show organiser Barry King says although budgets are tighter than ever, it is up to the organisers to adapt.
Other events across Wales have seen big falls in sponsorship, livestock and trade stand bookings.
In 2009, the United Counties Show in Carmarthenshire, which had been a local fixture since the 1800s, was forced to close as a loss-making enterprise.
The same year marked the last outing for the Swansea Show, which had never totally recovered from being cancelled in 2001 due to foot-and-mouth.
But those left behind say they are meeting the challenge and, like farmers themselves, having to diversify.
John Chalk, secretary of the Nevern Show in Pembrokeshire, says the restrictions on cattle due to bovine tuberculosis (TB), and stricter health and safety regulations have had a real impact.
He said: "It has been tougher in recent years especially for farmers as a lot in Pembrokeshire are under TB restrictions so can't show their cattle.
"This makes it exceedingly hard to keep up the cattle numbers in classes.
"In terms of changing the formula, people like the shows to be mainly an agricultural show and that's the way it has been for a while, but we have had a few changes, like dropping the driving class because there just isn't the interest.
"Despite all that, I do think the future is secure - it's a fixture in the yearly calendar for local people, and a lot of farmers work hard each year to make it happen."
Bridgend County Show kicks off on Friday and for the first time ever will be running a 5km road race.
Organiser Barry King said: "We have had to change the way we do things - we've moved to hiring out marquees and booking more trade stands and exhibitors to defer costs.
"There was just no continuity of funding and it was becoming harder to get advertisers and sponsorship each year.
Economic climate
"This new approach is making life easier. There are so many shows closing down all over the place, we don't want that to happen to us.
"Our livestock sections have tailed away since the foot-and-mouth crisis and we haven't had a livestock secretary since then."
Brecon County Show is the oldest in the UK and has been running since 1755.
In 2009, it was cancelled for the first time in its history, after an appalling run of weather led to the showground becoming waterlogged.
That led to the show suffering a loss of between £25,000 and £30,000.
Organiser Barbara Green said the economic climate had meant there were less bookings for trade stands this year than usual.
But she said the society which runs the show is keen to stay true to its roots, although this year will be improving its food offer, in conjunction with the Brecon Farmers' Market.
She said: "People are obviously reviewing how many shows they exhibit at and are trying to keep costs down.
"We have lots of sheep classes, a poultry show, a horse show and very good horticultural section.
"We try not to change too much as we know a certain formula works and we are still drawing the crowds.
"We have had new roadways built at the site, as well as better drainage, so hopefully the rain won't affect us so badly again."
Alex Bruce, who is organising this year's Pembrokeshire County Show, the largest in Wales, says they have taken a proactive stance with radio advertising in a bid to draw crowds from further afield.
"This year we are looking to encourage more visitors from south, central and north Wales in the hope of growing the show," he said.
"It has been tougher to secure sponsors but we are on target to reach last year's sponsorship level.
"Class entries are also looking positive - which means that the local farming community and horse owners and breeders are being supportive.
"Of course we can never be sure about what will happen with numbers on the gate."