Mullany honeymoon murders: 'Single bullet killed wife'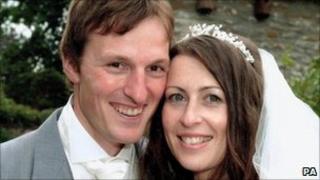 A woman on honeymoon in a Caribbean resort was killed by a single gun shot to the back of her head, a court has heard.
Ben and Catherine Mullany, both 31, from Pontardawe, Swansea Valley, died after being shot at the Cocos Hotel and Resort, Antigua, in July 2008.
Pathologist Dr Petra Miller-Nanton told Antigua's High Court Mrs Mullany's death would have been almost immediate.
Avie Howell, 20, and Kaniel Martin, 23, deny murder. The trial continues.
The Mullanys were on the final day of their honeymoon when they were attacked.
While Mrs Mullany, a doctor, died instantly, her husband, a student physiotherapist who was a former South Yorkshire police officer, was flown back to Britain for treatment.
He died a week later.
Sim card
Dr Miller-Nanton said she performed the post mortem examination on Mrs Mullany on 30 July, 2008 at Holberton Hospital in St Johns, Antigua.
Her statement was corroborated by Dr Derek James, senior lecturer of pathology at the University of Cardiff when he performed a second examination on Mrs Mullany on 5 August, 2008.
The court also heard from Fransisca De La Cruz, the woman who purchased Ben Mullany's stolen Nokia mobile phone in July 2008.
The court heard that when her Sim card was inserted in the stolen phone she discovered some Antiguan and international telephone numbers in the memory which she began delete.
Also on the phone was a recording of a man and a woman singing with music in the background. She tried to erase the recording but was unable to do so.
In a previous statement she had told police that she did not know the man she had purchased the stolen phone from but that she saw him about a week later, sitting down outside a house on Tindell Road.
When she took the police to the place where she saw the man, it was outside house that belonged to accused Kaniel Martin's family.