Confusion over website blamed for AM's disqualification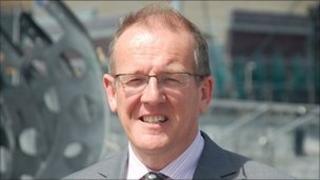 The Electoral Commission has cast doubt over its own statistics which suggest nobody visited a Welsh language website blamed for an AM's disqualification.
It apologised to Liberal Democrat AM Aled Roberts after a report said he was misled by outdated guidance.
He stood down because he belonged to a barred organisation but was reinstated by a vote of AMs on Wednesday.
Mr Roberts said he visited the Commission's Welsh-language site which gave him the wrong advice.
The Commission said it has no record of anyone visiting the site at the time in question, but that its statistics were not reliable.
North Wales AM Mr Roberts, the former leader of Wrexham council, stood down a fortnight after May's election because he belonged to the Valuation Tribunal for Wales, which deals with appeals about business rates and council tax, and is a public body from which AMs are barred.
AMs lifted his disqualification by 30 votes to 20 in the Senedd on Wednesday, with three abstaining.
On Tuesday, a report by assembly standards commissioner Gerard Elias QC said Mr Roberts "did everything that he could have reasonably been expected to do in ensuring that he was not a disqualified person for the purpose of nomination or election".
The report said Mr Roberts, a qualified solicitor, followed Welsh-language advice from the Electoral Commission which referred him to regulations on proscribed bodies from 2006. They were replaced by a new order in 2010.
Mr Elias's report says the Electoral Commission "is unable to confirm or deny" that its Welsh web pages were visited.
Following the vote to lift the disqualification, the commission said statistics suggest nobody visited its Welsh-language website, although it also said its data-collecting methods were not wholly reliable.
Spokesman Rhydian Thomas told BBC Wales's CF99 programme on S4C: "Now this is not some kind of forensic analysis, it is possible that someone looked at it and it didn't register."
Mr Thomas said the commission had gathered statistics on how many hits the document received in Welsh and English.
'Matter for them'
He added: "The English version, to give an example, received around 143 hits.
"But the Welsh version, from what we see, not one person looked at the document or downloaded the document."
Mr Thomas said that they looked at the number of hits between 21 February and 5 May 2011.
The Commission later said it provided the website statistics and an explanation about them to Mr Elias as part of his investigation.
It said: "As we made clear to Mr Elias we do not believe they are a reliable guide to whether or not individuals used our website and this is reflected in the conclusions in his report."
Mr Roberts said: "A link was sent out on 24 March from the Electoral Commission to the county councils and the Welsh link was wrong. I did look at it.
"If their figures aren't reliable, then that's a matter for them.
"But I know what I did, and that's the evidence I gave to Mr Elias."
Welsh Lib Dem leader Kirsty Williams, said: "We have heard from the Electoral Commission last night that their methods of data collecting are not wholly reliable, as was the actual data on the site itself."
She added: "I don't think it adds anything new and I think if they did have different evidence they should have made that available to the police and to Gerard Elias and not be changing their mind having given different evidence."
Mr Roberts was one of two disqualified Lib Dems.
John Dixon, elected for the South Wales Central region, will not return after he failed to read the relevant regulations as a candidate.
He was replaced as an AM by Eluned Parrott, the party's second-place candidate in the region.