Lynette White: Murder police 'bullied witnesses'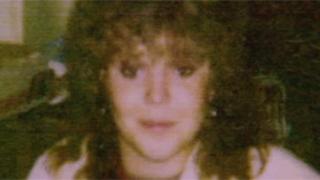 A retired police officer "bullied" witnesses to put five innocent men on trial for murdering prostitute Lynette White, Swansea Crown Court has heard.
Three of them, including her pimp, were found guilty of murder but later freed. Jeffrey Gafoor, a client of Ms White's, was eventually convicted in 2003.
Ex-chief inspector Graham Mouncher and seven others deny conspiracy to pervert the course of justice.
Ms White was stabbed 50 times in a flat in Cardiff docks in February 1988.
On Thursday, the court heard how police adopted "a co-ordinated and deliberate policy designed, in effect, to break witnesses".
Prosecutor Nicholas Dean QC said: "What they were doing was fitting in evidence to suit their view of what happened to her."
He added: "They were no longer actually investigating the murder, no longer keeping an open mind about who killed Lynette."
The jury was told how Mr Mouncher, one of the men who led the original murder investigation, "bullied and brow-beat" witnesses to give fake evidence.
Stephen Miller, Yusef Abdullahi and Tony Paris - who became known as the Cardiff Three - were convicted in 1990 of the murder. Their convictions were quashed in 1992 following a high-profile miscarriage of justice campaign.
Cousins Ronnie and John Actie, who stood trial alongside them, were acquitted.
The jury heard how Mr Mouncher became convinced the five men who went on trial were responsible for the murder, despite a lack of evidence.
The court was shown notes of witness interviews and statements which, the prosecution said, began to look and sound the same.
Mr Dean told the court: "People were brought to the police station often having been given no real choice but to attend.
"They were kept in the police station for very long periods of time."
He added: "Once broken, the witness still had to actually agree to the contents of a statement.
"On the whole it was the junior officers who then actually got the evidence, who wrote the account the police wanted the witnesses to sign up to.
"And so the whole process was a team effort - was part of a conspiracy."
The prosecution claim fellow prostitutes Leanne Vilday and Angela Psaila, who were later convicted of perjury, were "bullied and browbeaten" by detectives.
It is alleged this also happened to barmaid Violet Perriam, one of two members of the public being tried for perjury alongside the officers.
Mr Dean said: "The three witnesses apparently described complex fictitious events, independently of each other and without any prompting.
"Their accounts fitted together and complemented each other. This is simply impossible."
The court heard how some witnesses refused to change their stories and were "written out" of the evidence because their stories did not fit.
In one case, a car known to have been a taxi "morphed" into a Ford Cortina which may have belonged to one of the men eventually charged.
Mr Dean told the jury that two key witnesses were "broken" by senior detectives on 22 November 1988.
The witnesses, later to be joined by a third, describe events they had never mentioned over the nine previous months of the investigation.
'Fit-in'
The jury heard the change followed intensive questioning when witnesses were led to believe they were suspects and effectively held for up to 14 hours.
"This pattern of a senior officer causing the witness to 'break' - to give in to the persuasion to just agree with the police version of events - is of course only half the picture," said Mr Dean.
"Because once broken the witness still had to actually agree to the contents of a statement".
He said it was the more junior officers who then actually got the evidence, who wrote the account the police wanted the witnesses to sign up to.
Mr Dean said the whole process was a team effort and "part of a conspiracy."
But the prosecutor said two other witnesses who had the "moral strength" to refuse to go along with fictional events, were released and "written out" of the case.
He added it was because their statements contained information which they would not change but which clashed with the police view of events.
Mr Dean said it was important because it showed police were now trying to "fit-in" evidence in a coordinated attempt to build a case against specific people.
"The police had moved away from investigating a murder and were instead busy trying to implicate people in that murder - people who were actually completely innocent of that murder."
The retired officers, who deny all charges, are Det Sgt Paul Stephen, 50, Det Con Paul Jennings, 51, Det Insp Graham Mouncher, 59, Det Insp Richard Powell, 58, Insp Thomas Page, 62, Det Con Michael Daniels, 62, Det Con Peter Greenwood, 59, and Det Con John Seaford, 62.
Former trial witnesses Violet Perriman, 61, and Ian Massey, 57, both deny perjury.