Nasa award for Welsh scientist as shuttle blasts off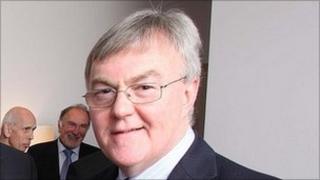 US space agency Nasa has handed one of its top honours to a Welsh scientist.
Prof John Harries, the Welsh Government's chief scientific adviser, has been recognised for research on the atmosphere and climate.
His award of the Distinguished Public Service Medal was announced on the day Nasa planned to launch its space shuttle programme for the last time.
He led a team that offered the first observational evidence of an increase in the Earth's greenhouse effect.
The award is Nasa's most prestigious civilian honour.
Published in 2001, the research offered evidence that significant rises in greenhouse gas emissions, such as carbon dioxide and methane, were responsible for warming the Earth.
Prof Harries said: "It is an honour and a privilege to accept this award.
"I would like to pay particular tribute to my many colleagues from across the world that I have had the good fortune to work with over the years, in particular friends and colleagues at Nasa's Langley Research Centre, in Virginia.
"This award is a testament to their commitment, dedication and professionalism to advancing our knowledge and understanding of science, and to discovering the answers to many of the most challenging scientific dilemmas of our time - such as advancing humankind's knowledge of the Earth's atmosphere and climate system."
'Accolade'
The Welsh Government announced the award on the day that the Atlantis orbiter was due to lift off on a mission to the International Space Station (ISS).
It would be the 135th and final launch in the 30-year shuttle programme. Nasa believes it can get astronauts to the ISS more affordably by contracting out their transport to private companies.
First Minister Carwyn Jones said Prof Harries's award recognised his achievements and was "a significant accolade to Wales and to the Welsh Government that we are able to draw on the advice of such a distinguished and internationally recognised scientist".