Groups scale down at Royal Welsh Show in tough times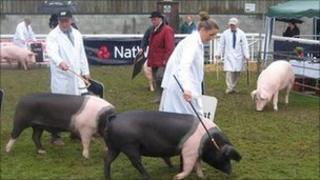 Cuts have forced some public bodies to scale down or even pull out of this year's Royal Welsh Show in Powys.
Brecon Beacons and Pembrokeshire national parks have withdrawn from this month's showpiece farming event.
The Environment Agency and Keep Wales Tidy will be there but have no stands, and the Welsh Government and Forestry Commission are cutting back.
Show organisers denied it would have an impact, saying other organisations wanted to come in.
The four-day event at Llanelwedd attracts more than 200,000 visitors in the third week of July.
The Welsh Government, which has given up the leases on two of its three buildings at the showground, said it was consolidating while providing a "functional and practical presence".
Wales' three national parks, Brecon Beacons, Pembrokeshire and Snowdonia, had shared a stand at the event in previous years, but that is disappearing this year.
Economic climate
John Cook, secretary of National Parks Wales and chief executive of Brecon Beacons National Park Authority, said over the past 12 months the economic climate had forced them to focus not only on cutting costs, but to think again about how to engage with the general public.
"Therefore, last November it was agreed by all three Welsh national park authorities that the cost of organising and manning an exhibition stand at the show for four days in July 2011 was not financially viable," said Mr Cook.
Mr Cook said Snowdonia National Park Authority would have a presence in the Welsh Local Government Association pavilion.
Environment Agency Wales said it would not have stand at this year's show and costs were an issue, but it was not the only reason.
A spokesman said: "Rather than one stand, as we have had in previous years, we want to focus more on talking to farmers direct about different working practices that can save them money and help improve local rivers.
"We believe that a better way of doing this is by having our staff where the farmers spend a lot of their time, like farming union stands."
Keep Wales Tidy said it would not have a stand at this year's show either.
A spokeswoman said: "Keep Wales Tidy will have a smaller presence at this year's Royal Welsh Show primarily because, like a lot of other charities in Wales, we have a limited budget."
Forestry Commission Wales said cutting costs was part of the reason why it was scaling back.
A Welsh Government spokeswoman said: "In line with the Welsh Government's policy concerning the management of its estate, and in order to reduce costs, we have looked to consolidate our presence on the Royal Welsh showground, while providing a functional and practical presence, not only during the show period, but throughout the year."
Alun Evans, chairman of the Royal Welsh Show council, told BBC Wales that there were plenty of other organisations who wanted to come in.
"It's not going to have any impact on the show because there is plenty of activity going on, and others want to come in," he said.
"The impact will be on the organisations that have decided not to support the show this year to the degree they have in the past. I think they are going to be looking at measuring the impact on their good name."
Organisers of some shows in south and south west Wales said last week that the economic climate and farming restrictions had seriously impacted on Wales' agricultural shows.