Colwyn Bay's former KFC becomes art gallery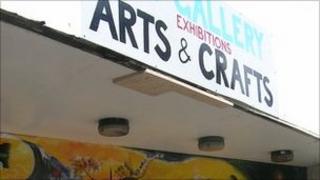 A former fast food restaurant in Colwyn Bay has been transformed into a community art gallery, but it could be short-lived.
After standing empty for months, the one-time KFC will offer arts and crafts lessons, as well as the chance for artists to display and sell their work.
But the Bay Gallery building could be demolished in a year's time under redevelopment plans.
If it proves a success, alternative premises will be found for it.
Art work, including paintings in oils, acrylics and water colours, is already on display for Friday's opening.
It has been set up as a charity, and chair Brenda Guinn said: "When you look at the work, it's beautiful.
"It's just that they haven't had an opportunity to display the work to its fullest potential."
Those with no experience are also being encouraged to come along for classes, which cost £5 each.
"I supply all the materials. Some have never painted before in their lives so they come and have a go at oil painting, which saves them buying it all and not knowing what to do with it," said Ms Guinn.
"They can come here, we will show them all the techniques and then it's up to them to develop their own style."
One of those already signed up is Lynne Betteridge.
"It does make a big difference because other people encourage you - you haven't got that at home," she says.
Most of those using the new gallery and art classes are middle aged or older, but Ms Guinn hopes to attract a wider cross-section of people.
Colin Singleton is a keen painter who has only been able to use the walls of his own home to show off his work before. Now, at £1.50 a time, he has the chance to hang his pictures in the Bay Gallery and offer them for sale.
"Now it gives me the opportunity to display them in some way and if somebody is interested enough to want one then they can buy one."