Bride-to-be joins Rhondda church closure sit-in protest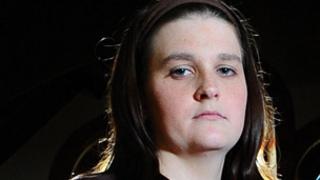 A bride-to-be has joined a sit-in at a church in south Wales, after it closed weeks before her wedding day.
All Saints Church in Maerdy, Rhondda, held its last service on Sunday, prompting a protest by villagers.
Emily Morton, 21, hoped to become the fourth generation of her family to walk down the aisle there in September.
The Church in Wales said the final decision to close the building - which needs £400,000 in repairs - was taken by the parochial church council.
Ms Morton wanted to carry on a family tradition when she booked her wedding with fiance Aaron Jones, 23, six months ago.
"My great-great gran was married here in 1923 and I was desperate to carry on that tradition just like my mother and grandmother did," said Ms Morton.
"I was christened here and have been coming to the church all of my life.
"I could picture every detail of my wedding. But now that has been taken from me at the last moment - it is heartbreaking."
She added: "My gran lives across the road from the church. I had planned to walk across to the ceremony in my wedding dress just like my mum and gran had done before me."
The protest has been continuing, with at least four people sleeping on the church floor at night.
Ms Morton is looking at booking another village church more than five miles away, but that is half the size of All Saints.
She said: "Some of our guests may have to stand outside. I'll have to book a car to get me back and from the church too."
'Very hard'
Emily's grandmother Celia Murphy, 61, added: "I have always wanted to see Emily married here.
"As the wedding drew nearer we've all had butterflies in our stomachs. Now all that is gone. It is tragic and we want our church kept open."
Norma Williams, 67, one of the organisers of the sit-in, said: "We want the Parochial Church Council to sit up and see how strongly people feel about this.
"Everyone in the community is supporting us. The local chippy is even giving free fish suppers to the protesters sleeping overnight here."
'Prayers'
The Parochial Church Council decided the church needed major repairs costing an estimated £400,000 and was becoming "too dangerous" to keep open.
A Church in Wales spokesman said All Saints had a long history of building problems and now faced a bill for repair work estimated to cost at least £400,000.
"It is always very hard when a church closes," he added.
Archbishop of Wales Dr Barry Morgan said: "Nobody wants to see a church closed and my prayers are with members of All Saints.
"It is simply a matter of practicality and pooling our resources together."