Pembrokeshire biodiversity 'declining' report says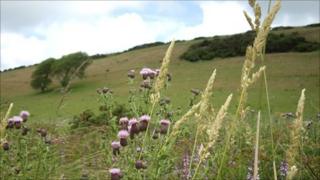 A report has revealed some significant declines in wildlife in Pembrokeshire over the last 10 years.
It shows that, while there have been some conservation successes, habitats like grasslands and hedgebanks continue to be in decline, as do certain birds.
Last year Wales - along with every other country in the world - missed the target set by the United Nations to halt the decline of biodiversity.
Report author Bethan Cox said there would be a "renewed focus".
Ms Cox, biodiversity officer for Pembrokeshire Biodiversity Partnership, said the aim would be focus on "key habitats" which could be linked up to act as a "buffer" against the effects of climate change.
She said: "Overall we believe that the general health of wildlife in Pembrokeshire is still declining.
"We're trying to look at targets over next 20 years to try and maybe, not halt biodiversity loss but have some key habitats and species where we can halt the loss and also enhance the numbers."
One of those is Llangloffan Fen, a wetland nature reserve near Castlemorris, run by the Wildlife Trust.
Nathan Walton, the trust's Pembrokeshire officer, said: "These areas are becoming the first ones that tend to be drained and dried up and built on or farmed.
"So we're trying to create more areas of open wetland."
Ms Cox said the report brought together information about species and habitats to provide a "bigger picture" about the wellbeing of Pembrokeshire's biodiversity.
She acknowledged its showed the county had a mixed bag of results.
Targeted work for specialised species, such as pond creation schemes, specific habitat management for rare butterflies and nest box schemes for kestrels had been successful.
Projects such as Managing the Coastal Slopes led by Pembrokeshire Coast National Park's and Pembrokeshire's Living Heathland Project led by the National Trust, had also done well.
But Wales as a whole missed its target to halt biodiversity loss by 2010.
Habitats like grasslands and hedgebanks continue to be in decline, as do certain birds, such as yellowhammers, down by half, and skylarks, down by a third.
'Grassland'
She said: "Over the last 10 years there's been a heathland project run by the National Trust and they've brought 600 hectares of land back to management.
"But then we've got other habitats such as grassland, that we've seen decline. Quite often they are small areas that become neglected and turn to scrub."
The report, the State of Wildlife in Pembrokeshire, was commissioned by the Countryside Council for Wales.