Teenagers airlifted in Brecon Beacons mountain rescue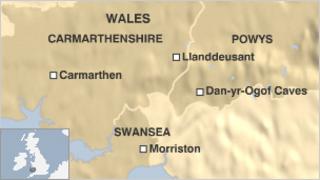 Eight teenagers were airlifted to safety after one of them suffered a serious asthma attack on an overnight camping trip in the Brecon Beacons.
The group had been trekking between Llanddeusant and the Dan-yr-Ogof caves when the 17-year-old was taken ill.
The alarm was raised at a farmhouse, and three mountain rescue teams and an RAF helicopter crew were called in.
Rescuers praised two teenagers who went for help as doing "exactly the right thing".
The teenagers from the Brecon area had been taking part in a Duke of Edinburgh award scheme on Friday. It follows the rescue of a 16-year-old boy from Wiltshire last Wednesday, who was also taking part in the award scheme.
A boy and a girl trekked four miles (7km) for more than an hour across difficult terrain to raise the alarm at the farm, while the others set up camp to look after the teenager.
Members of the Brecon, Central and Western mountain rescue teams, and dog search and rescue unit Sarda, were joined by an RAF helicopter from Chivenor in Devon to search for the larger group.
Pilots spotted them at 2230 BST and winched the casualty and some of the party to safety before returning for the rest.
Mark Jones, deputy team leader of Brecon Mountain Rescue Team, said the teenagers were unable to locate their exact position so they made camp.
"Two of the party set off across difficult mountainous terrain for help," he said.
"They followed a stream down the mountain to a farmhouse and raised the alarm.
"These teenagers did exactly the right thing and, had they not done so, it could have been a lot worse.
"This was the second time in a week that the RAF search and rescue helicopter from Chivenor has proved vital in rescues in the Brecon Beacons National Park."
The 17-year-old was taken to Morriston Hospital, Swansea, for treatment.
Mountain rescuers have paid tribute to the pilots of an RAF rescue helicopter who battled dire weather conditions to airlift a teenager to safety.
Last Wednesday, a 16-year-old in a college party of 28, from Wiltshire, was airlifted to Morriston Hospital after he fell in the Black Mountains near Llyn y Fan Fach, Llanddeusant, Carmarthenshire.
The young people were also taking part in the Duke of Edinburgh award scheme.