Rescue of climbers on Tryfan, Snowdonia, by Ogwen team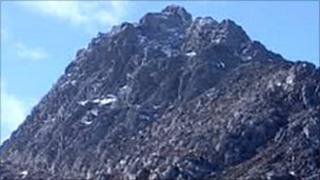 A mountain rescue team helped two climbers to safety after an overnight search in Snowdonia.
The pair, whose only means of being located was their torch, had spent Saturday climbing on Tryfan.
But they sent a mobile phone message for help after becoming tired and failing to reach the summit.
They were unable to accurately describe their location but were eventually found unhurt and taken off the 3,000ft high (914m) mountain.
The operation, which involved 12 members of Ogwen mountain rescue team, ended at around 0400 BST.