Thornwell school 'minimum disruption' after fire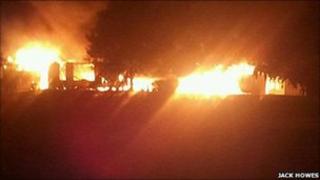 The head teacher of a Monmouthshire school partly destroyed by fire says disruption to pupils will be kept to a minimum while a new wing is built.
Temporary buildings will be constructed for pupils at Thornwell Primary School in Bulwark, Chepstow, over the summer.
Plans are being drawn up for a new extension to the junior block which will replace the destroyed infants building and nursery unit.
Investigations are continuing into the cause of the blaze.
Head teacher Linda Davies said as soon as school closes for the summer next Wednesday a team would demolish the old building and remove the debris.
"During the summer holidays, they are going to construct a temporary hall, four classrooms, a toilet block and staffroom.
"The junior department will then be extended and there will be a brand new infant and nursery department built as an extension to the junior building."
Ms Davies said it was expected the new building would take around 18 months to two years to complete from the time of the fire.
A meeting with an architect takes place shortly to discuss plans for the new block.
Portable buildings
"The important thing is that the children's education continues and isn't interrupted, which we anticipate to be the case at this stage," said Ms Davies.
"There will be minimum disruption to their work."
The head teacher said individuals and businesses had been generous donating replacement items lost in the fire, which broke out on 3 June.
A group of bands are staging a concert in Chepstow on Friday to raise funds for the school.
Dubbed "Thornaid", the concert at The White Lion has been organised by former pupil Matt Barnes, 17.
"We're hoping to raise loads of money on the night so we have a nice big cheque to hand over to Thornwell head teacher Mrs Davies," he said.
The school was fully reopened to all 320 pupils soon after the fire, with portable buildings used as classrooms.
It is believed the fire started in the school grounds and spread.
Police say the blaze is being treated as suspicious but they do not know if it was started deliberately.
Two teenagers, aged 17 and 19, were arrested but released with no further action.