Helicopter fleet for north west England and north Wales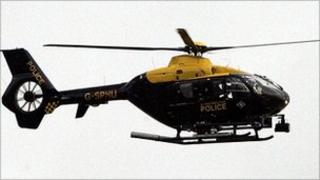 Five police forces in north west England and north Wales have launched a new joint air support service.
The North West Air Operations Group will operate four helicopters from a regional command desk to incidents across Cheshire, Greater Manchester, Lancashire, Merseyside and north Wales.
It is aimed at both savings and a better service say police.
The new arrangement is also seen as preparation for the National Police Air Service which is set to launch in 2012.
The regional command centre will be at Newton-le Willows in Merseyside.
The new arrangements will mean the closest helicopter can be deployed to any incident. If there are two incidents in the same force area, then two helicopters can be sent as necessary.
"The new arrangement for police helicopters in the north west prepares us for the future of air support nationally, while offering a high-quality, flexible, cross border service," said Supt Chris Markey, of Merseyside Police.
"(It is) with the ultimate aim of making the north west a better and safer place," he added.
Bill Weightman, the chair of the north west joint committee, and Merseyside Police Authority, called it "a great example of how collaboration between the north west's police authorities and forces can result in both savings and a better service," he said.
"I very much look forward to sharing with our communities across the north west the successes of our new regional fleet," he added.