Royal Mail pays out £300,000 for lost post in Wales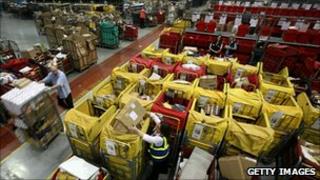 The Royal Mail paid out more than £300,000 in compensation for lost items in Wales last year, according to a consumer watchdog.
Consumer Focus says the overall number of complaints by customers also rose slightly in 2010-11.
Most complaints were from the CF postcode area, covering Cardiff and a large area of the south Wales valleys.
Royal Mail apologised but said only a "tiny fraction" of customers were ever affected.
But the watchdog said loss or theft of any items was "unacceptable".
Most complaints related to lost items, followed by redirection and delays to delivery.
About £31,000 was paid out for redirection and £10,000 for delays.
The number of complaints from customers in Wales rose 500 from the previous year to 50,000.
However, the consumer champion said the total amount of compensation paid out in Wales dropped from £455,000 in 2009/10 to £413,000 in 2010/11.
The CF postcode area saw 13,640 registered complaints and received £106,000 in compensation.
Consumer Focus Wales spokesman, Gareth Price, said: "There's a variety of things, - lost mail, things that have broken that arrive in the post, things that aren't delivered properly.
"There's about 10 different categories in total, but basically it's areas where people are unhappy with the service they have received."
He acknowledged the rise in complaints was relatively small, but added it represented "50,000 unhappy customers".
He said he was surprised the figures were not better, adding: The less complaints you have, the less compensation you are going to pay out, the better the service you can provide for people."
Rebecca Thomas, Royal Mail policy expert at Consumer Focus Wales, said: "The vast majority of mail is delivered securely but when things get lost or stolen, it is unacceptable and causes a lot of distress.
"Whenever people are sending cash or vouchers, they should use Special Delivery. It costs more but it provides cover.
"Royal Mail has improved in recent years but it cannot be complacent. If mail is lost or stolen, people should complain and seek compensation. It is vital that Royal Mail gets it right to maintain their customers' trust and keep their business."
A Royal Mail spokesperson said nationally around 62m items of mail were delivered on a typical working day and only a tiny fraction of customers ever had to raise concerns with the company.
"Nevertheless, Royal Mail takes every complaint extremely seriously and makes every effort to resolve any issues to the satisfaction of our customers," said the spokesperson.
"In Wales, our postmen and women handle almost nine million items of mail each day. Royal Mail is focused on providing the best possible customer service and we apologise to anyone who has experienced a problem."
Customers with problems are asked to contact Royal Mail customer services on 08457 740740.