Sophie Clarke's £5m damages over brain injuries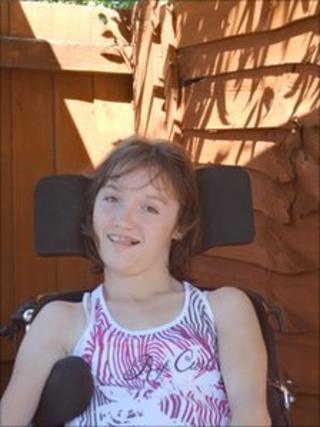 A girl who was born with severe brain damage has been awarded £5m damages from a health board for her care.
Sophie Clarke's lawyers said she had suffered a catalogue of mistakes which led to her birth being delayed at Princess of Wales Hospital, Bridgend.
Sophie, 12, from Pontyclun, Rhondda Cynon Taf, needs 24-hour care, is immobile and is fed through a tube.
Abertawe Bro Morgannwg University Health Board said it had learnt from failures at the 1998 birth.
Sophie's mother, Lynne Clarke, said: "It has been an incredibly hard few years for the family, but to know that our daughter will always be looked after is a huge relief for us all.
"While no amount of money will repair the damage done, we now have a chance to move on with our lives and focus all of our energies on Sophie, ensuring that she gets as much out of life as possible."
The family's lawyers, Irwin Mitchell, said Sophie's cerebral palsy was caused by oxygen starvation in the womb.
They said she had a gross abnormality of her heart rate which was not recognised despite it showing on monitoring equipment.
She should have been delivered earlier, but staff did not intervene and the birth was allowed to progress naturally, they added.
Abertawe Bro Morgannwg University Health Board said it wanted to "reiterate our sincere apologies to Sophie and her family for the failures in 1998".
A spokesperson said: "The safety of our patients and the quality of the service we provide is very important.
"Since 1998 systems, equipment, training and ways of working have significantly changed. There are also robust audit arrangements in place to minimise the risk of such events recurring.
"While no amount of money can restore Sophie's health, we hope it will at least help to provide for her future care and support."
Therapy services
Suzanne Munroe, of Irwin Mitchell, said the funds secured at the approval hearing in Cardiff would be used to ensure Sophie had access to the care she would need for the rest of her life.
"The extent and complexity of the problems faced by Sophie mean the funding which has been secured will ensure she can access 24-hour care, and rehabilitation and therapy services that will prove invaluable throughout her day-to-day life," she said.
"It also means that her family can guarantee she has accommodation adapted to meet her everyday needs.
"However, while the settlement is welcome news, it is important that the compensation Sophie will now receive from the trust is not seen as a lottery win."