Mullanys brutally murdered on Antiguan honeymoon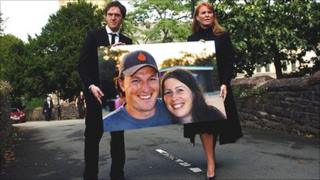 Although Ben and Catherine Mullany both grew-up in the Swansea Valley - and even went to neighbouring schools - it was not until they were young successful adults that they met.
Family and friends say they were the perfect couple and it was love at first sight.
Following spells in the army and police Mr Mullany was training to be a physiotherapist.
Mrs Mullany was a doctor working towards becoming a GP.
They were on the final day day of their Caribbean honeymoon on 27 July 2008, two weeks after they married, when they were shot.
The couple, both 31, were staying at Antigua's Cocos Resort when Avie Howell, now 20, and Kaniel Martin, 23, entered their cottage.
The men have been convicted of their murder and of killing local shopkeeper Woneta Anderson Walker, 43.
During a two-month trial at Antigua's High Court the jury has heard Mrs Mullany died almost instantly from a single shot to the head.
Witnesses described finding her lying on the floor with bruising on her arms suggesting she had tried to fight off her attackers.
The room had been ransacked with clothes strewn around and the door to the safe was open. Cash and a mobile phone were missing.
Her husband, a student at the University of the West England in Bristol, was still alive but slumped on a bed.
He was placed on a life-support machine and flown back to Morriston Hospital in Swansea where he died a week after the attack.
Why Howell and Martin targeted the Mullanys' cottage only they will know as both declined to go into the witness box and speak under oath.
Martin did make an unsworn statement in which he said at the time of the shootings he was drunk and high on marijuana.
The men were arrested by police three weeks later by which time detectives from Scotland Yard were in Antigua.
It was the murder of Woneta Anderson Walker - again by a single shot to the head - that led police to the killers.
There was DNA evidence, a bloody footprint and ballistics tests showed all three victims had been shot with bullets fired from the same gun.
Stolen mobile phone SIM cards were traced to the defendants and in turn to a phone which had belonged to Mr Mullany.
He and his wife were buried together in a private service at the church near Pontardawe where they had wed less than a month earlier.
Duchess of York
Following their deaths family and friends told how the fun loving couple had found the loves of their lives in each other.
Mr Mullany's brother Adam told BBC Wales: "I've never seen a couple as in love as they were.
"They were perfect for each other. They loved each other very much."
The murders were news not just in the UK and Antigua but around the world.
Two months after their deaths almost 900 people attended a memorial service at Llandaff Cathedral in Cardiff, including the Duchess of York.
Sarah Ferguson had met Mr Mullany's parents on a flight to Antigua and subsequently agreed to become a patron of the fund set up in the couple's memory.
It provides financial help to students wanting to become doctors or physiotherapists.
Dr Dewi Evans, a former paediatric consultant who worked with Mrs Mullany while she trained to be a GP, said it was a fitting tribute to the young couple.
"Catherine was a great doctor," he said.
"She was very experienced by the time she came to us and could be relied upon to make good decisions.
"In addition to her knowledge and expertise she also had the right personality and temperament to deal with the families of young children."
He remembers having to break the news of her death to her colleagues.
"It was one of those things where words fail you... they were completely stunned. There was disbelief."
It was a feeling shared by many in the Swansea Valley, according to Mr Mullany's former headteacher Phil Davies.
"This is a tight community, everybody knows each other. I think everybody felt such a shock," he said.
"Catherine a doctor, Ben training to be a physiotherapist, they had so much to give back to society and [were] such popular people.
"I think people now feel very sad for the family - that they have had to go through this business of a trial - especially as the circumstances were so tragic."