Mullany honeymoon murders hit Caribbean paradise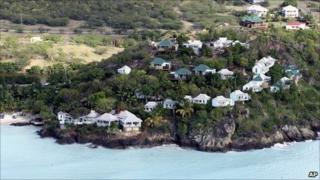 The tourism brochures bill this as paradise and making the descent into the airport after the eight hour flight from the UK you get a sense of why Antigua has earned that description.
Below is the green lushness of an island set in the bluest of seas, all ringed with white sandy beaches. Antiguans say they have a beach for every day of the year.
Three years ago Ben and Catherine Mullany would have been enjoying their first weeks as a married couple relaxing here.
It should have been the perfect start to life together but as we now know it was to end in tragedy.
They were shot on the final night of their honeymoon while staying in a cottage at the Cocos Resort during a botched robbery.
Mrs Mullany was killed almost instantly while her husband died a week later after being flown home to Swansea on life support.
Beverley Stairs from Teddington near London was also a guest at the resort.
She told me she had been chatting to the Mullany's the night before they were killed.
"I heard this shot and then this awful scream and then another shot," she said.
"When we got up in the morning it was just devastating.
"We came out of our room and it was just all cordoned off.
"They said the people in number 15 had been shot and she had died. That's when I realised it was Cath and Ben."
Avie Howel, now aged 20, and Kaniel Martin, 23, were convicted of the murders exactly three years after they carried them out.
In downtown St John's and in the capital's suburbs you get some sense of the contrasts which exist on Antigua. Relative poverty alongside relative affluence.
The holiday resorts so loved by visitors from Europe and North America, cheek by jowl with the slums.
Violent crime is on the rise throughout the Caribbean and inevitably there are times when visitors get caught up in it.
The deaths of Ben and Catherine Mullany were personal tragedies for their families and all who knew them.
On Antigua they sparked an economic shockwave.
In the immediate aftermath there were holiday cancellations and what followed was a significant downturn in tourism.
Paradise was tarnished.
Antigua's Prime Minister Baldwin Spencer says he remembers vividly the moment news of the shootings was brought to his office.
"Quite frankly I was devastated. We are so dependent on our image as a country, so dependent on how we treat our visitors, it is our lifeblood for us.
"Personally I felt it very strongly and it's just like as if this was done to a family member.
"I think generally this is how people in Antigua viewed this and that is why we spared no effort in trying to break the situation and get to the root of it."
There has been action since, he says, to improve security.
"We have taken some precautionary steps to ensure that the safety record of Antigua is further enhanced - this country still remains one of the safest and most hospitable island in the Caribbean," he added.
But speak to ordinary Antiguans and many will tell you they are concerned about levels of violence.
Peter Kelsick is a businessman with strong connections to the holiday trade.
"Obvious impact"
He's run hotels, beach bars and a scuba diving centre. He says: "No matter what sort of business you are in - tourism related or otherwise - unless there is that element of security then there are some serious worries."
He too said the murders had hit the island.
"If anyone loses their lives in these circumstances it is huge - given the violence and the circumstances the impact was obviously far reaching.
"Obviously considering the amount of trade we do with the UK market the ramifications were ranging.
"Not only from an international standpoint and the tourism sector but also for us locals."
Three years have now passed since Ben and Catherine Mullany were so brutally killed.
On Antigua everyone knows their story and certainly all those I've spoken with, from bar staff and beach hawkers to airport immigration officers express their horror.
Slowly the shine is beginning to return to this island's reputation.
But in many minds Antigua will always be associated with what happened to the Mullanys.