Swalec increases household gas and electricity prices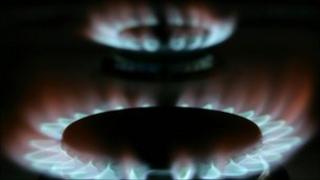 Energy provider Swalec has announced it is increasing prices for household gas and electricity.
The company, part of Scottish and Southern Energy (SSE), is the third energy firm to announce rises since June, blaming wholesale price rises.
Household electricity prices will rise by an average 11% and household gas by 18% in September.
Consumer Focus Wales said the price hike will "tip many thousands more people into fuel poverty".
Swalec said the changes reflect increases in both fixed charges and energy unit prices.
The energy provider, which last increased electricity prices in August 2008 and gas prices in December 2010, has promised it will not implement another increase before 1 August 2012 at the earliest.
It added that "a sustained fall in wholesale energy costs" would allow household prices to be reduced.
The changes are estimated to affect around 5.2m household electricity customers and around 3.6m household gas customers across Britain, including more than one million energy customers in Wales.
Scottish Power announced rises of of 19% for gas and 10% for electricity on 8 June, which come into effect on 1 August, and British Gas announced rises of 18% for gas and 16% for electricity on 8 July, which come into effect on 18 August.
Based on the new typical annual household gas consumption adopted by Ofgem in November 2010 of 16,500kWh, and the typical annual domestic electricity consumption of 3,300kWh, SSE said its typical dual fuel bill will be £1,265, up from £1,094.
In a statement released on Thursday, the company said: "Three things are putting upward pressure on prices. First, the cost of using the energy networks to distribute electricity and gas to customers' homes, which is determined by Ofgem, is 14% higher than it was a year ago.
"Second, the cost of the mandatory environmental and social schemes that suppliers are required to fund, like the Carbon Emissions Reduction Target (CERT) and the Warm Home Discount, is 11% higher than it was a year ago.
"Third, the wholesale cost of electricity and gas has gone up by around 23% and around 40% respectively since SSE last announced a price increase for household gas."
Fuel poverty
The company admitted the increase would "unfortunately" result in more people being in fuel poverty, which already affects 320,000 households in Wales, adding it "will give assistance to vulnerable customers".
Age Cymru's director of influencing Victoria Lloyd said: "This increase can only lead to further pressure for struggling consumers desperately trying to meet rising bills, particularly those living on fixed incomes, such as pensioners.
"Inevitably, it will tip increasing numbers of older people into fuel poverty."
Rising wholesale energy prices have been attributed to events such as the earthquake and tsunami in Japan, political upheaval in the Middle East and the rapidly increasing energy needs of Asian economies.
Lindsey Kearton, energy specialist at Consumer Focus Wales, said knowing another price rise was round the corner "will not soften its impact for customers".
"This increase - by the largest electricity supplier in south Wales - heaps more pressure onto already cash-strapped consumers," she said.
She questioned whether the increases in gas and electricity prices were fair.
"Currently consumers cannot tell whether these increases are justified and that stokes the lack of trust in energy firms," she said.
"Suppliers point to rising wholesale costs. Yet although wholesale prices have risen recently, they remain around a third lower than their 2008 peak."
She called for regulator Ofgem to "get to the heart of whether prices are fair".