1,300 police jobs cut in Wales predicted by HMIC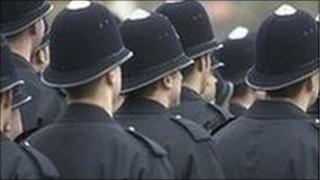 Police forces in Wales are planning to reduce their workforce by 1,300 officers and staff, according to research on the impact of budget cuts.
An HM Inspectorate of Constabulary (HMIC) report estimates by March 2015, there will be 764 fewer police officers in Wales.
There will also be 540 fewer civilian staff, but only four fewer community support officers.
The Home Office has stressed that the police front line would be protected.
The inspectorate says a third of the reduction has already happened across forces in England and Wales.
A separate study from HMIC on the links between police numbers and crime concludes "there is relatively strong evidence for the potential of an effect of police numbers on crime, particularly with regard to property and other acquisitive forms of offending".
The study says a 10% reduction in officers will lead to a 3% rise in crime. Using HMIC's figures, the reduction in officers in Wales is 10.4%.
The Gwent, North Wales and South Wales forces will all see a fall in the number of officers, according to the report, but Dyfed-Powys will see a small increase.
There are reductions in police staff across the board, but the numbers of community support officers will remain steady.
Police officers in Wales have already voiced concerns about the effect UK government cuts will have on crime and public service.
It has previously been estimated that 1,600 police jobs in Wales could be lost because of the cuts.
Home Office figures showed there were 4,625 fewer officers in Wales and England compared with last year.