Hard pressed Welsh papers keep it local in recession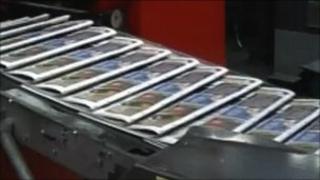 Newspapers are supposed to be in decline. Shrinking circulation, vanishing titles and journalism job cuts have been offered as proof that the industry is suffering a slow death.
Papers have followed their readers and advertisers online where they are competing with media that allow people to share information and quickly find news that is relevant to them.
Coupled with the impact of a fierce recession, it might seem like a bad time to launch a local newspaper.
But that is what has happened in two parts of Wales recently.
The first edition of the free Oswestry and Border Chronicle landed on doormats in Powys in March and the Pembroke and Pembroke Dock Observer has recently launched in Pembrokeshire.
Two new titles might seem to buck the trend of a contracting industry.
The regional journalism website Hold The Front Page heralded the publication of the Oswestry and Border Chronicle as the start of a "newspaper war".
Its owners, Midland News Association, is distributing about 14,000 free copies and selling 1,000 more in and around Oswestry and Welshpool putting it in competition with the Powys County Times.
Associate editor Graham Breeze admitted: "It's unusual for any newspaper to launch at the moment in this climate.
"It's going extremely well. The reception we had from readers and advertisers has been unbelievable.
"It has created for advertisers a healthy situation because two organisations are vying for their business."
'Hyper-local'
Mr Breeze, who has 42 years experience in local newspapers, last year helped launch the website My Welshpool - an example of what is known by the industry buzzword "hyper-local".
"I think the demand is very much there for absolutely local news," Mr Breeze said.
"It's the very local news that people still want and where newspapers have the advantage."
Prof Bob Franklin, of Cardiff University School of Journalism, said: "The broad philosophy is that in a local market the way to be successful is being local.
"The philosophy is that we are much more interested in what's going on in Cardiff than Cairo, and broadly speaking I think that's true."
Local papers are "absolutely integral to a local community's integrity and identity", he said.
"I don't think people have understood the consequences of shutting papers.
"People want local reporters on the ground, plodding around and doing that good old fashioned coverage."
Media Wales - publisher of the Western Mail, South Wales Echo and Wales on Sunday - is introducing sections for sport and hyper-local news at its Celtic series of weekly papers in the south Wales Valleys.
But, citing a challenging economy, the company is also shedding 22 journalism jobs. It follows the closure in 2009 of the Neath and Port Talbot Guardian titles by Media Wales. Parent company Trinity Mirror has 14 weekly papers in Wales.
Pontypridd MP Owen Smith is concerned about the consequences for his local paper, the Pontypridd Observer, when Media Wales promises "an increased focus on community-generated content".
'Social media'
Mr Smith, a former BBC journalist, said: "If the content isn't sufficiently high quality then people won't read it, won't buy it and it won't survive.
"You need to publish material that's going to be of real interest to people and you need editorial judgement over those papers."
Pembrokeshire is already served by the Western Telegraph. But Tindle newspapers, publisher of the Tenby Observer, thinks it has spotted a gap in the market for something more local.
Sir Ray Tindle said they weren't launching papers in spite of the recession - but because of it.
When turnover falls, business have two choices - cut costs or go in search of new income to recoup their losses.
"We decided as a group to endeavour to replace the revenue in the way I suggest rather than going first of all to cutting costs, cutting staff," Sir Ray said.
He said the industry was at the bottom of the downturn, adding: "It's not a particularly good time for any of us."
Whether its social media or a tough economy, this isn't the first time local newspapers have faced challenges.
Sir Ray, 85, said: "We have been through a few recessions, but we have always come out of them better than when we went in and we will this time."